Helen Phillip with children J.R., Lee, and canine companion pose for a photo in front of Phillip's Flowers in Cicero. The Phillip family lived above the shop in the early years.
AS GOOD AS ANY, AND BETTER THAN MOST
The Phillip Family Joins the Floral Industry
The year was 1923. Warren G. Harding passed away unexpectedly at age 57, and Calvin Coolidge became the 30th U.S. president. The first Yankee Stadium opened in the Bronx. Louis Armstrong made his first recording, and Roy and Walt Disney founded the Walt Disney Company. It was the "Roaring Twenties. " Chicago was booming. Al Capone led an empire of crime in the Windy City. And, James A. Phillip opened the first Phillip's Flowers shop in a rented storefront on Cermak Road in Cicero, Illinois, an early, thriving suburb of Chicago.
But, James, or "Senior " as he was affectionately called, didn't pick the flower business as much as it picked him. His father was a gardener in Austria before immigrating to the U.S., and he passed his love of flowers on to his son. Then, when James was in his early teens, his father passed away, and James had to drop out of school to become the breadwinner for his family. He worked for a Chicago florist, delivering flowers by streetcar in the city, and helping around the shop to learn floral design. He tried other jobs, as well, including a job with the railroad. But, he decided that the flower business was "as good as any, and better than most." And, Phillip's Flowers was born in that rented Cicero storefront in 1923.
A grandchild recalls James recounting how he designed and delivered floral decorations to a few parties that Capone reportedly attended, and how the young florist could only hope that someone would pay him so he could buy more flowers for his shop the next day. Times were tough. Fortunately, someone did pay, and the little flower shop flourished just like its flowers.
IT WAS ALWAYS ABOUT FAMILY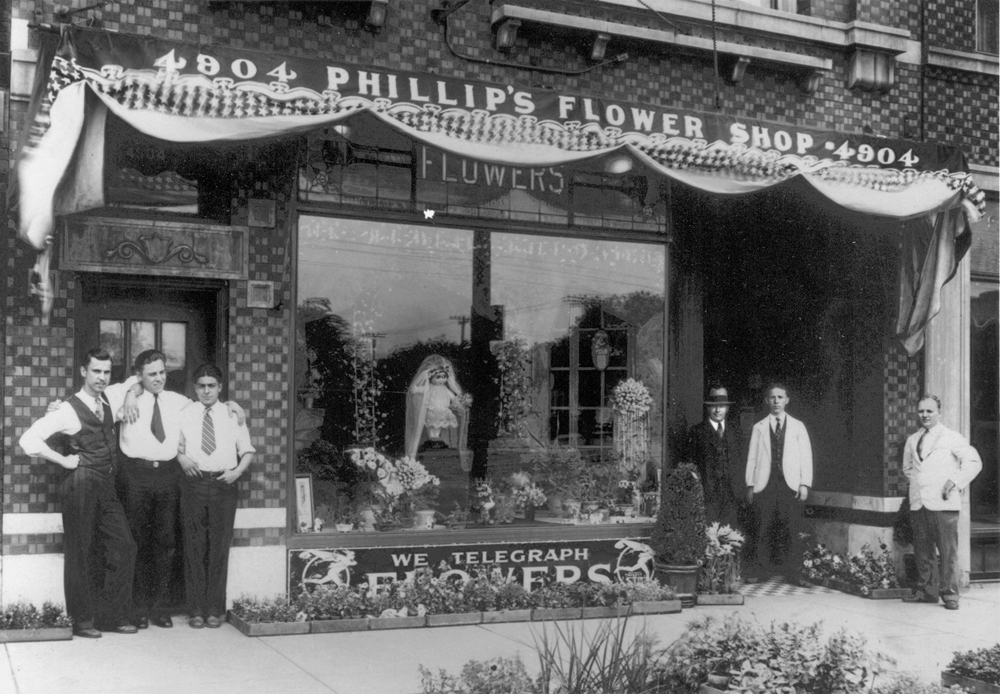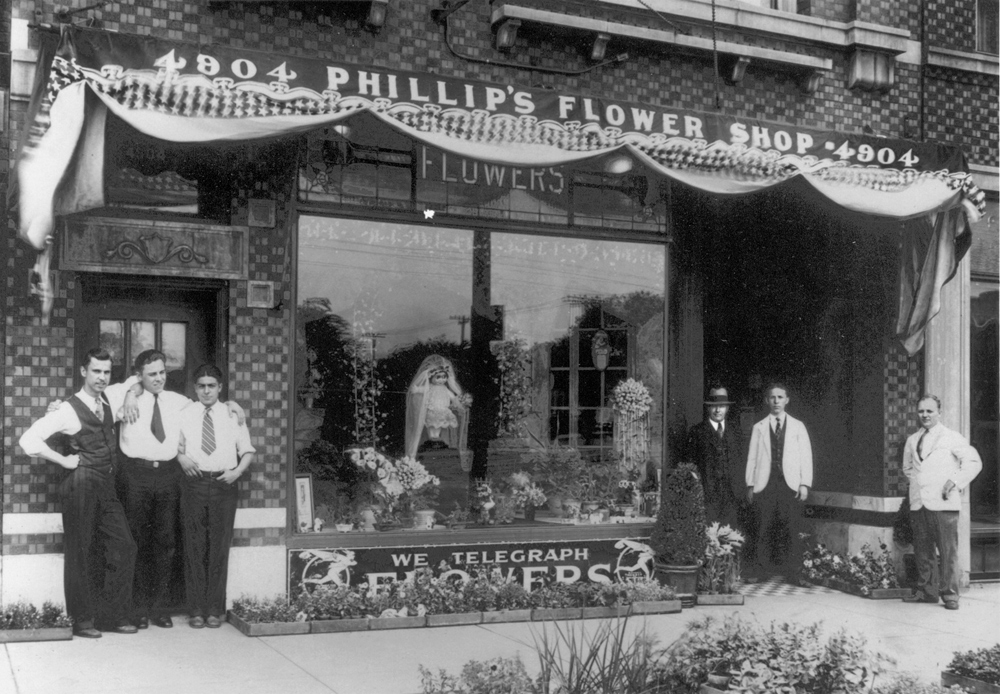 from left to right: Jim Cerney, Senior Designer; Bill Phillip (brother of founder James A. Phillip), Designer; Nick Talarico, Assistant Designer; unknown customer; George Phillip (brother of founder James A. Phillip); James A.Phillip, Founder of Phillip's Flowers
It was in Cicero that James met his wife Helen. She was a bookkeeper at the nearby Western Electric Plant. And, together they built a bigger flower shop just a few blocks away, with an apartment upstairs where they could begin raising their family. The business soon became a wonderful combination of nurturing both flowers and family. 
The couple had three children, J.R., Lee, and Russ, raising them in the early years in the little apartment above their shop. When Lee went on to host a daily news and interview show on CBS TV in Chicago, some of her co-workers called her "Petunia" because she grew up playing on the sidewalk in front of that shop. Of course, all three children helped in the family enterprise through their college years.
THE REAL SECRET TO OUR SUCCESS
J.R. and Russ stayed with the company, opening additional shops in La Grange Park, Oak Brook, and beyond. Russ is the Chairman Emeritus and is still actively involved in the business today, along with five other full-time family members from the third and fourth generations, and more than 150 other dedicated floral professionals who excel at floral designs and personal service. "Over the years, so many wonderful people have been part of our team, " said Russ Phillip, "they're the real secret to our success." 
Today, Phillip's Flowers is best known for its award-winning flower shops in Elmhurst, Hinsdale, La Grange Park, Naperville, Westmont, and Wheaton; its daily deliveries in Chicago and suburbs; its commercial interior landscaping division headquartered in Oak Brook; and its beautiful floral decorations for everything from weddings to funerals.
Over the years Phillip's has provided flowers for many memorable Chicagoland events and visitors, including the Chicago Auto Show, multiple presidential dinners, and the Papal Mass in Grant Park. The company is ranked among the top 1% of North American florists by both FTD and Teleflora, and has also been named a Loyola Family Business of the Year and an Illinois Retail Merchant of the Year.
Now, in 2023, Phillip's is celebrating its 100th year as a local family business. How has it thrived for so many years? As Senior often said, "Being good to your customer always comes first." The second, third, and fourth generations agree. "It's not an easy business," said Don Phillip, "but flowers give people so much joy and comfort, and that's always been our greatest reward."
FROM THE PHILLIP'S FLOWERS ARCHIVES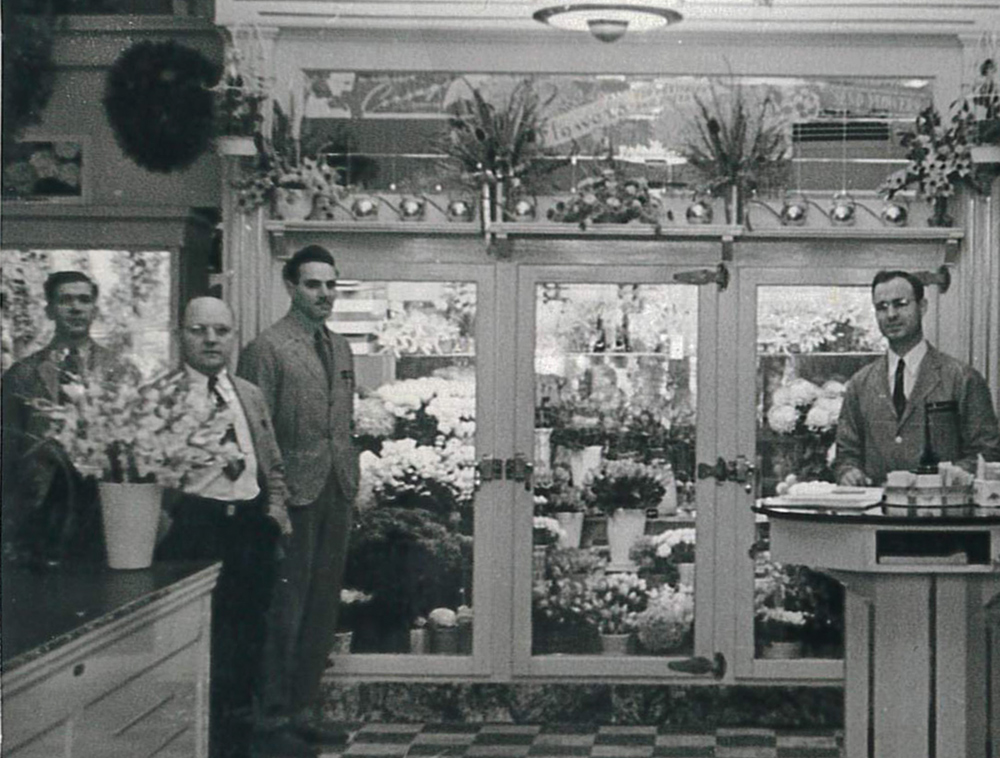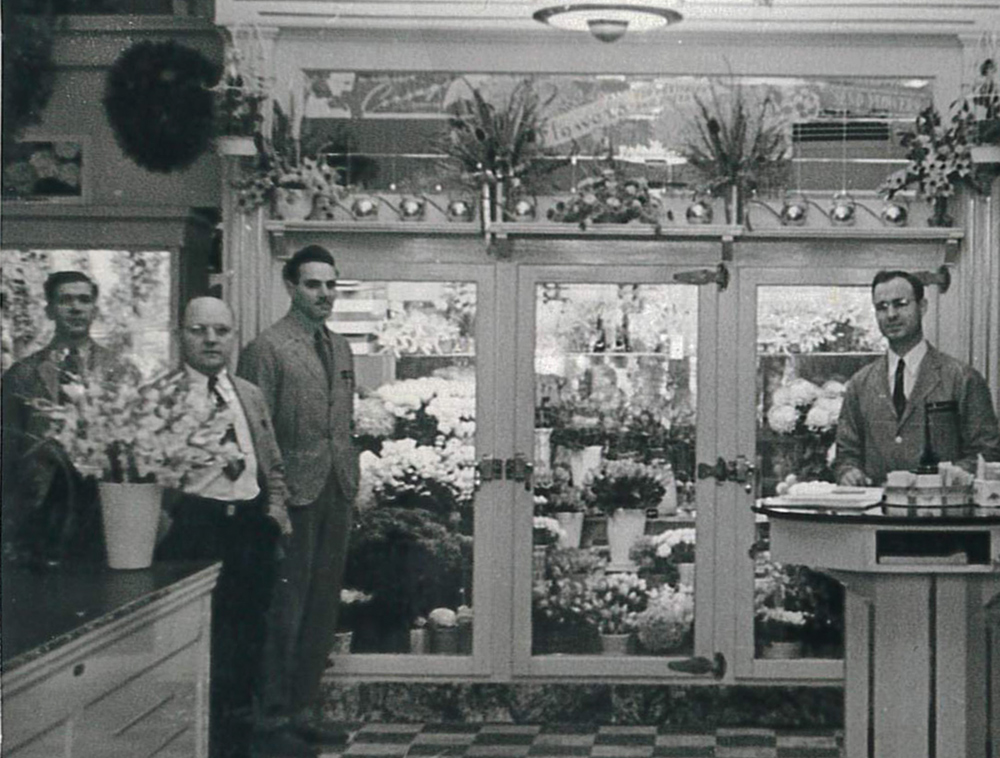 an interior view of the Cicero store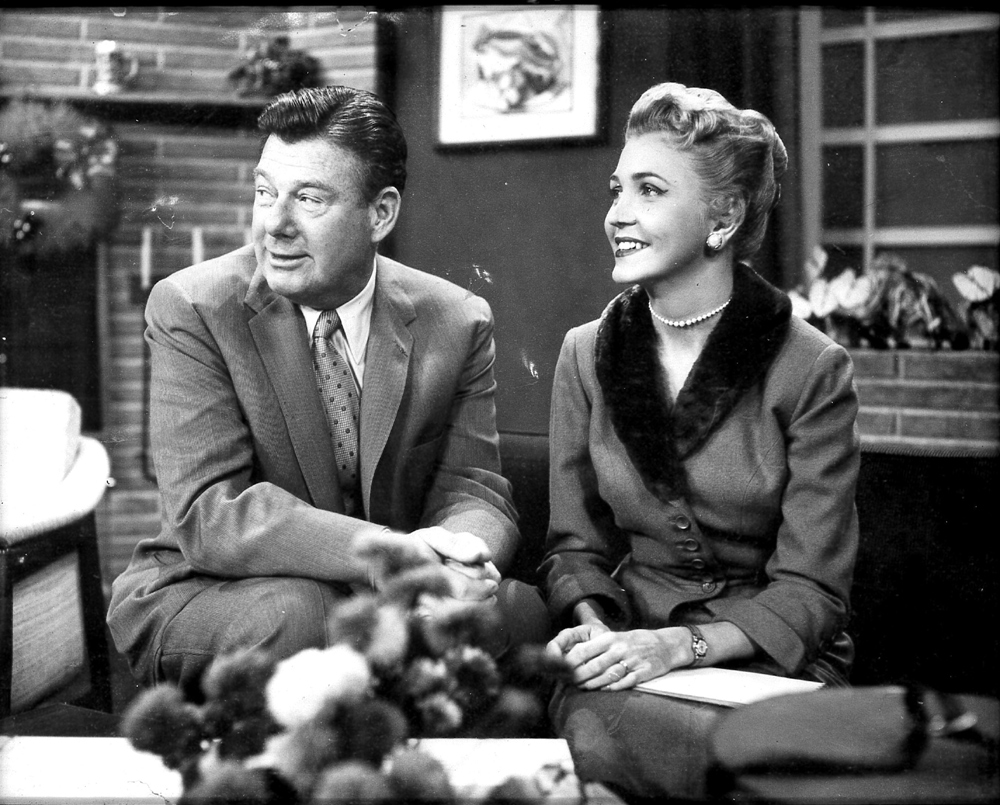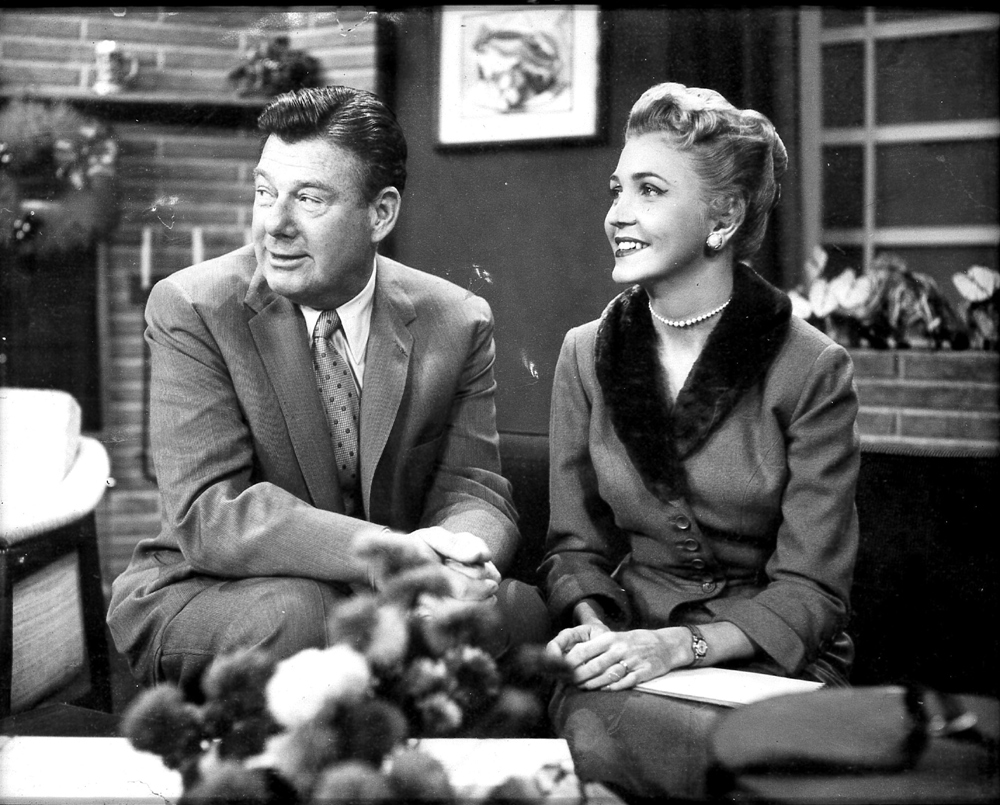 Radio and television personality Arthur Godfrey with Lee Phillip Bell on The Lee Phillip Show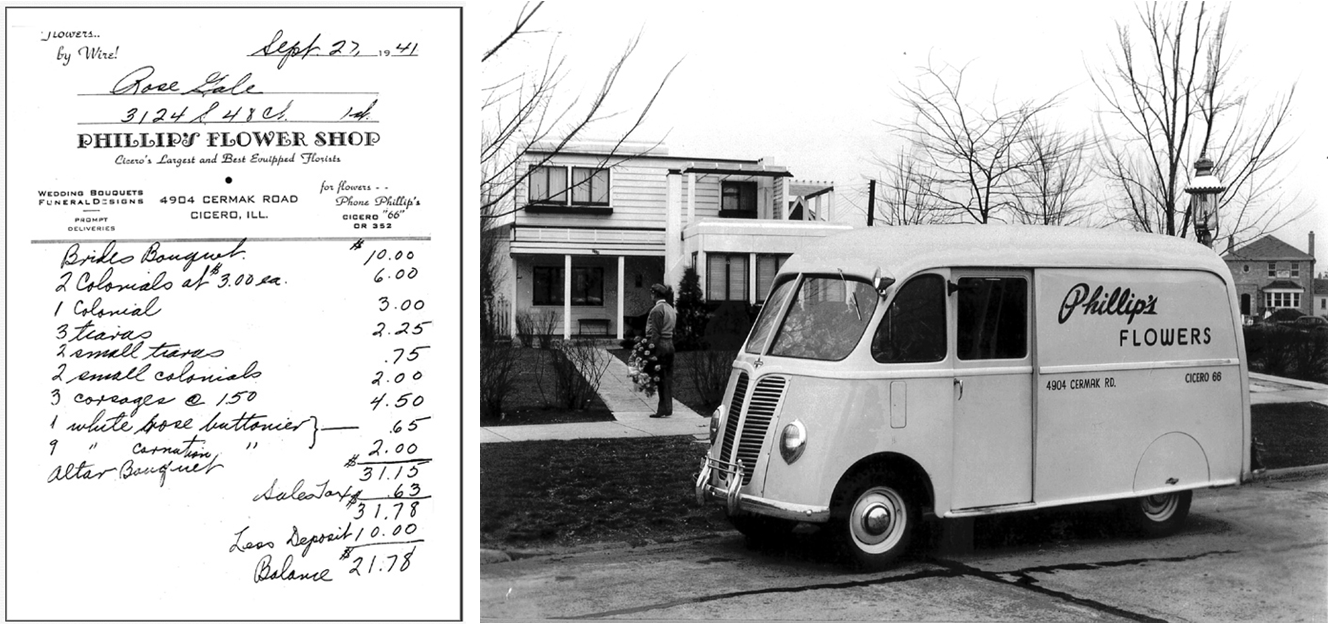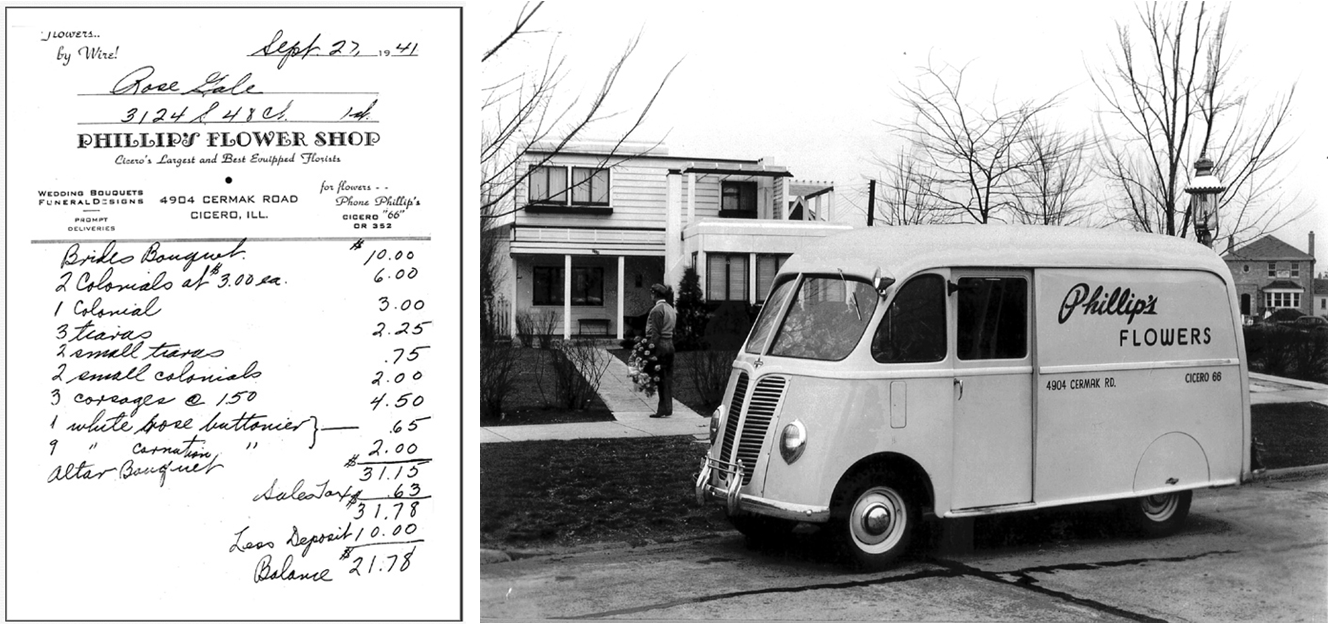 The wedding flowers referenced on the above receipt were likely delivered in this early 1940's International Harvester Metro.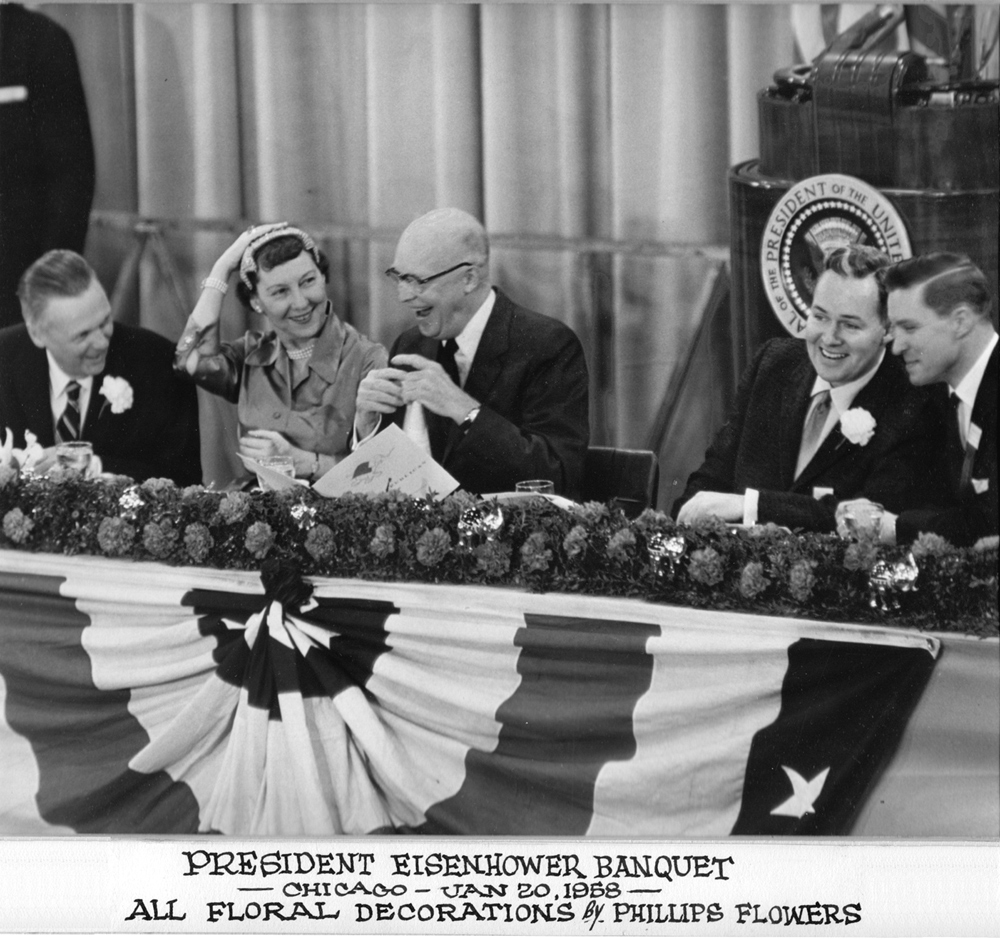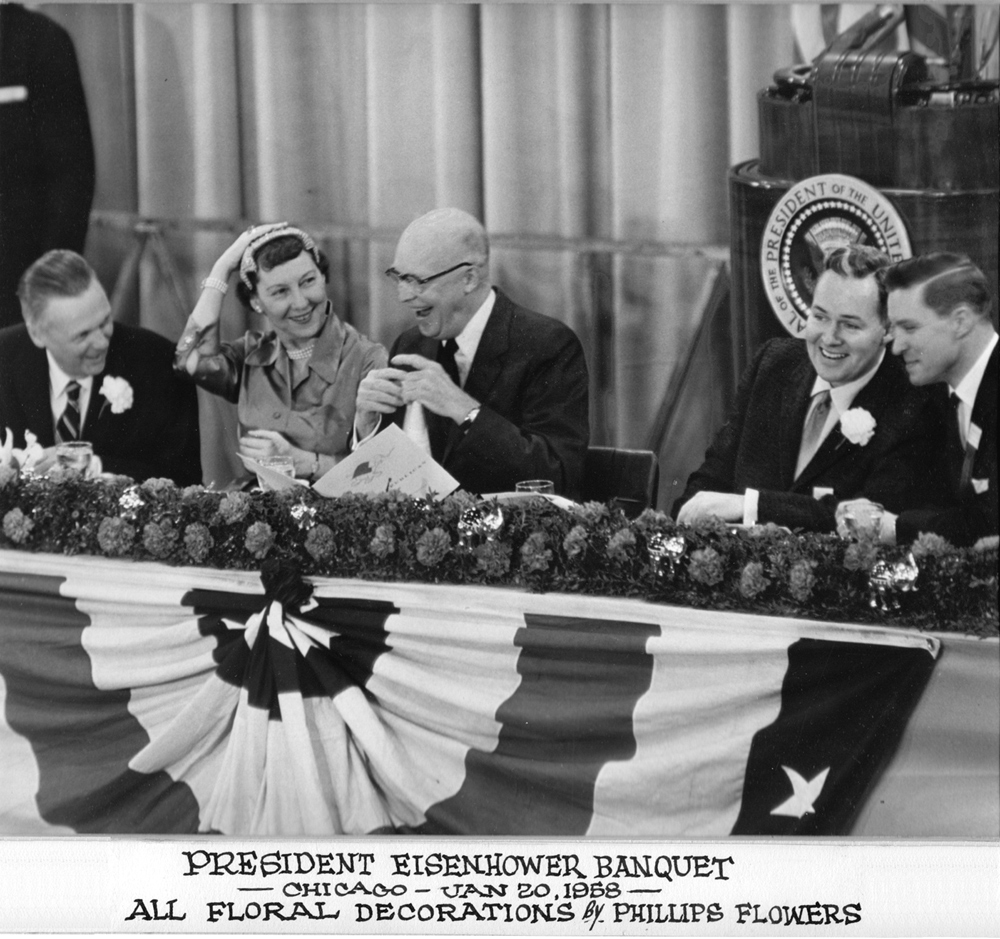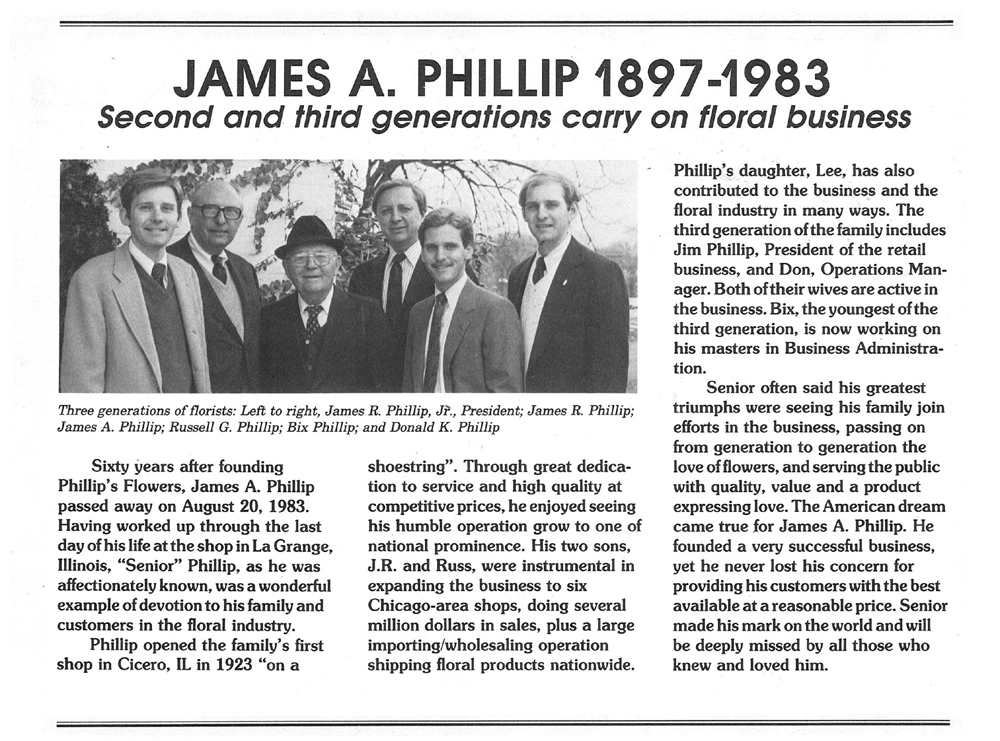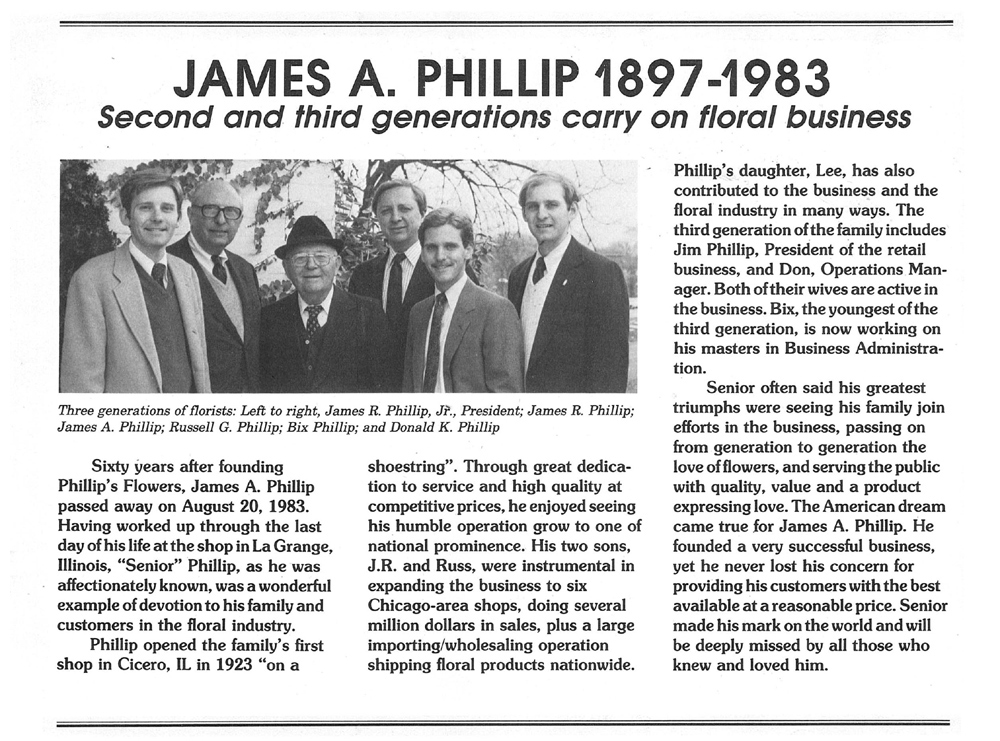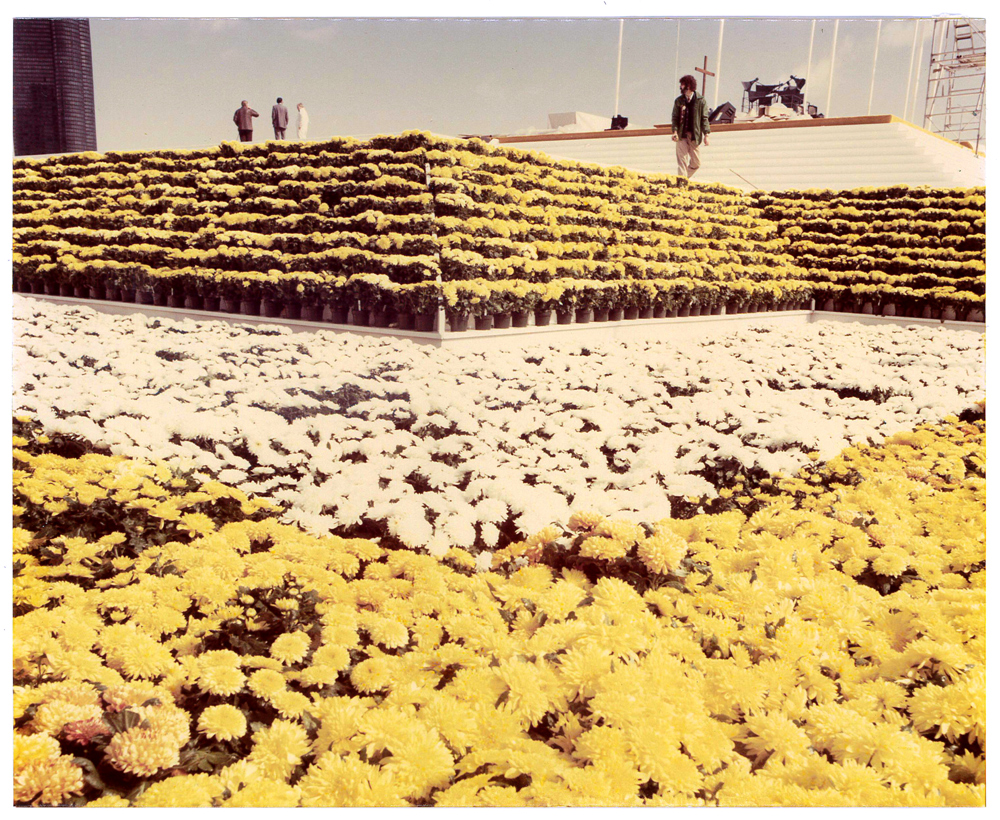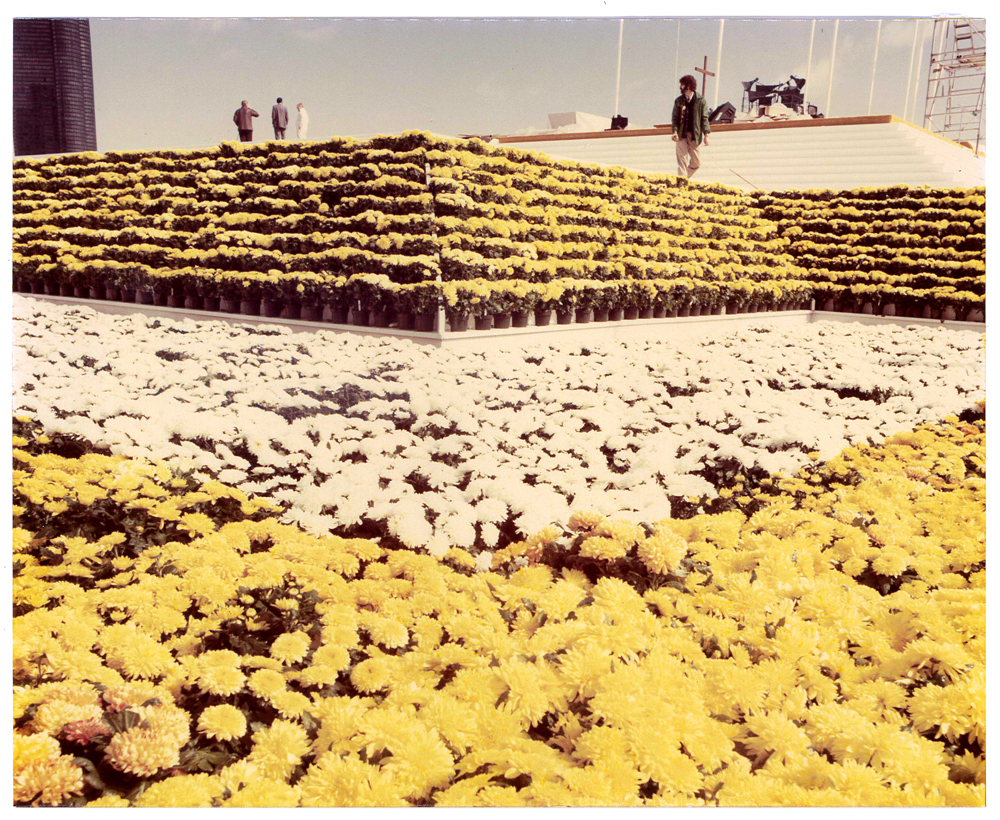 Phillip's decorates the Papal platform for Pope John Paul's 1979 Papal Mass at Grant Park.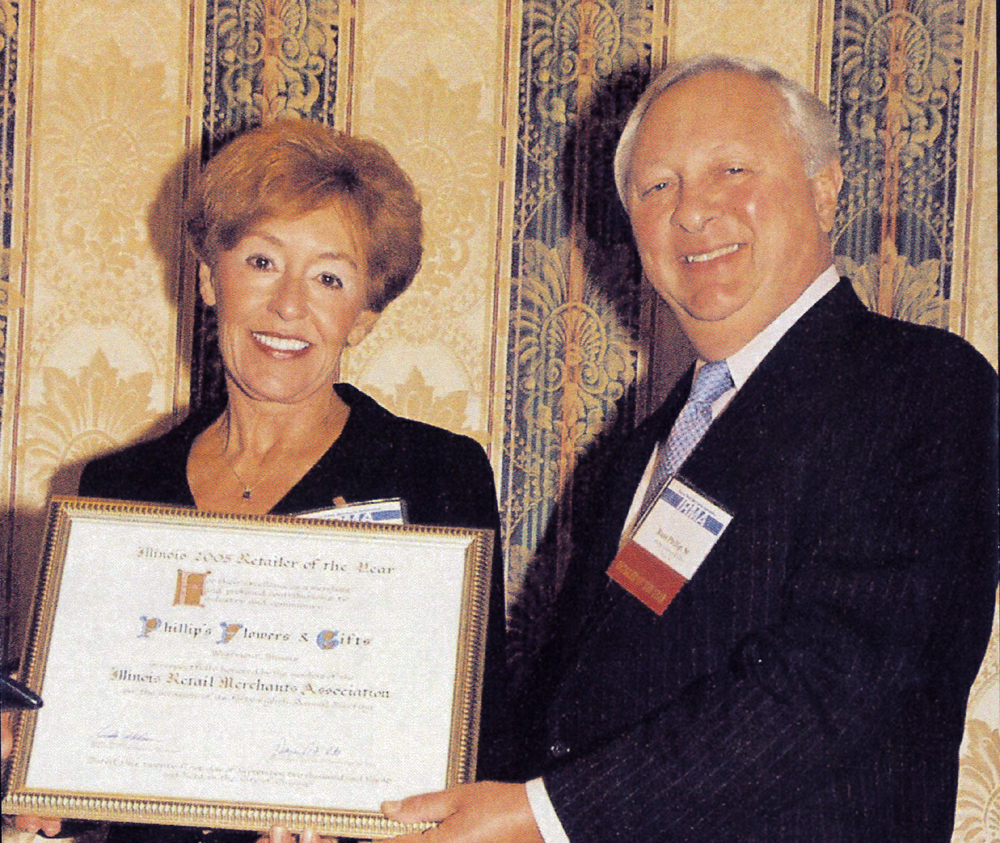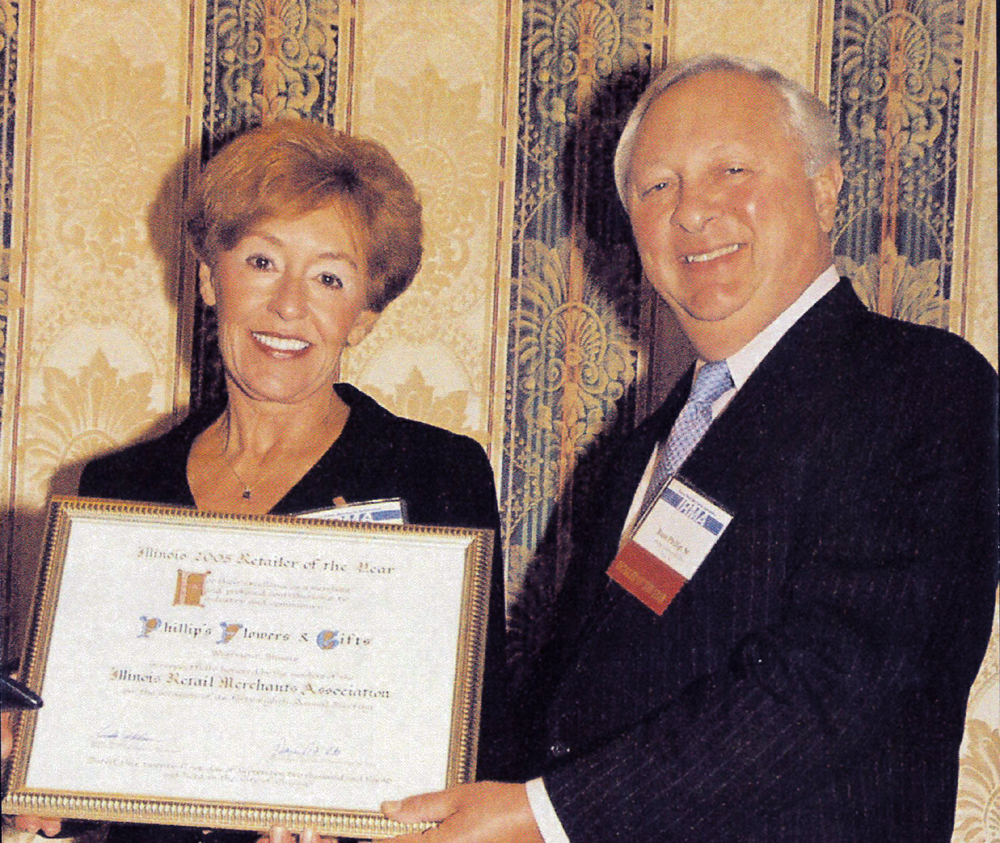 Phillip's Flowers Chairman Emeritus, Russ Phillip accepts the 2005 Illinois Retailer of the Year Award.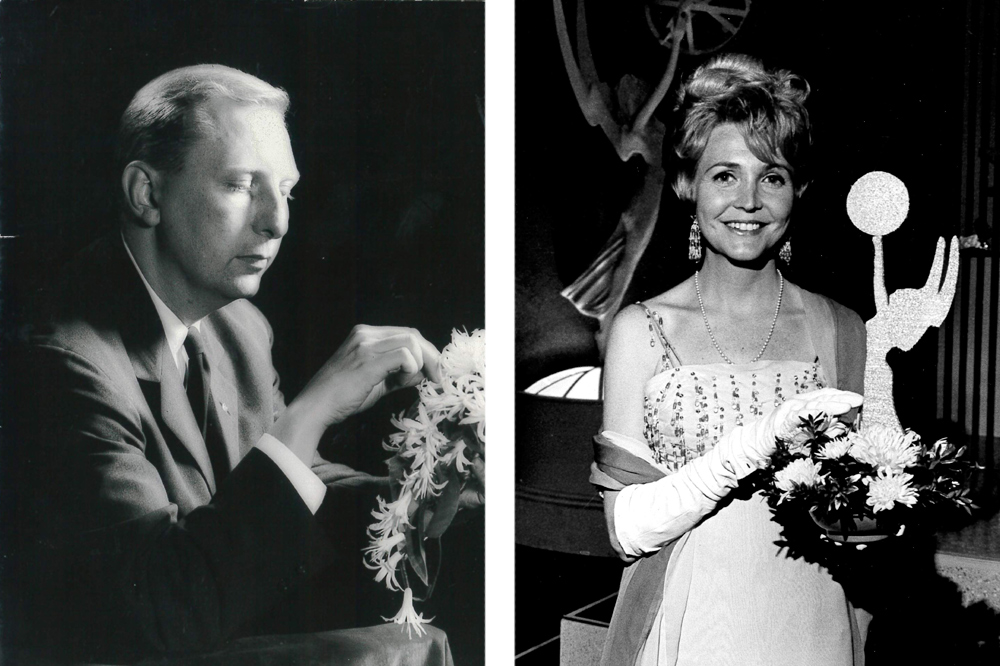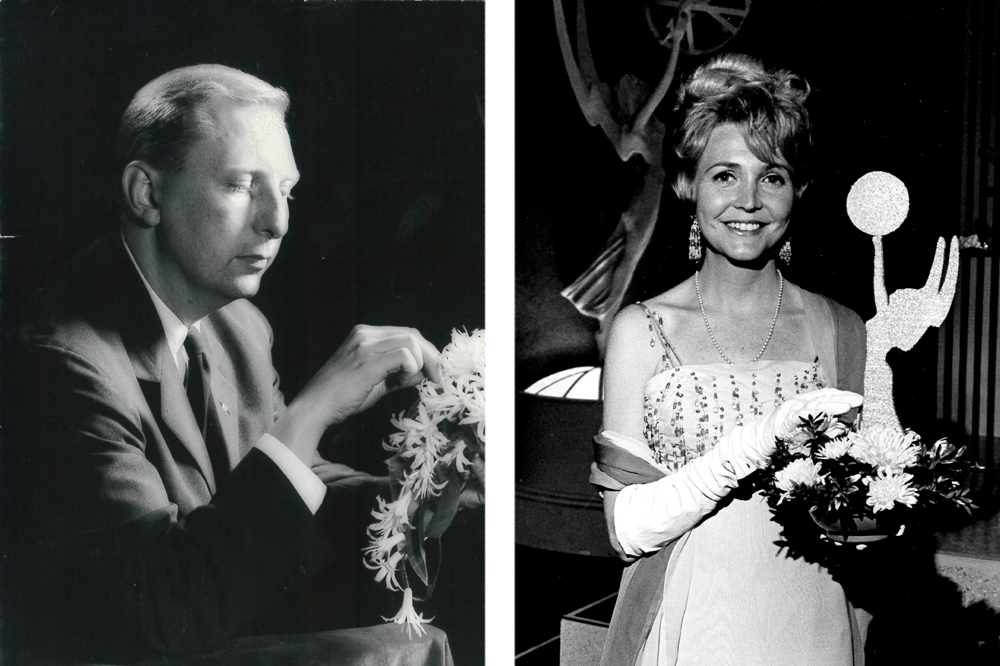 The kids with the dog, J.R. Phillip and Lee Phillip Bell, seen as adults. After leaving her TV career in Chicago, Lee Phillip Bell and her husband Bill would form Bell-Phillip Television Productions, Inc in Los Angeles and become the creators of two enduring CBS soap operas, The Young & the Restless and The Bold & the Beautiful. J.R. would go on to lead Phillip's Flowers down a path of thriving growth and is remembered as both a steward and a visionary of our industry.