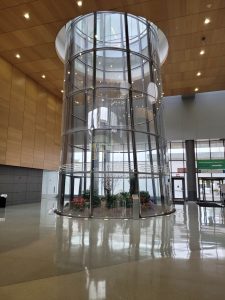 Can't watch the video right now?
Scroll below to learn about the basics of this one-of-a-kind project!
Hey, everyone! Today we're going to show you the biggest terrarium we've ever seen and tell you a little bit about it!
Located at the main entrance of a large medical center here in Chicago, the three story, open-air terrarium is the focal point of the building, providing intrigue and visual interest to passersby. This dramatic, sculptural element is constructed of laminated glass over an elliptical steel frame that tapers at the top to an exterior opening. This aperture connects the terrarium to a rooftop garden on the 4th floor and allows the plants to experience all four seasons. Not only that, but this also means that the plants receive rainwater from outside, which is so beneficial! The angle, taper, and elliptical nature of the enclosure, in combination with the sun's movement throughout the day and year, means that there are actually two separate climates within the terrarium. One side experiences a dry climate, and on the other side a temperate climate exists. This means that Chicago exterior plants need to be selected accordingly.
So let's talk about the plants. Each of these plants was selected for its color, texture, and shape, and each adds its own seasonal appeal to the overall design. Within the temperate side, we chose a few deciduous trees, along with some evergreens for year-round interest. Because the design is to be viewed from every angle, trees and shrubs were placed strategically so they don't hinder one's view of other plants. Everything can be seen from 360 degrees. The Weeping Spruce was selected for its tall upright form. On the dry side we selected Agave plants for their heat and drought tolerance, along with their structure. The Panadanus adds tonal interest with its variegated foliage. We also took care to leave some negative space between plantings so that the plants have room to grow, and so the Horticulture Technician has room to move through the plantings with ease during maintenance visits. Pops of color were achieved through the use of bromeliads and blooms, which will change throughout the year according to the season and availability. There are definitely some nuances and challenges we'll face in terms of care and maintenance, and we will likely have to adapt our approach here and there. But we are so ready to evolve with this unique project and proud to be part of such an exceptional example of biophilic design in action.
Whether you are in a terrarium or a commercial space, call us for Chicago commercial plant services!