Green Certification
We don't just bring green into your space – we're green about how we do it!
Phillip's Interior Plants & Displays is proud to be Illinois' first Green Earth – Green Plants Certified interior plantscaping company. This means that we only use sound, eco-friendly horticulture practices to care for your plants. To achieve this certification, plantscaping companies are evaluated on every area of their operations:
 
– Horticulture Practices
– Transportation
– Facility Management
– Recycling & Reuse
– Staff Education
– Social Responsibility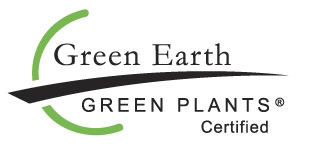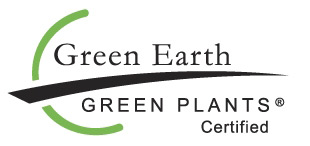 We are a pesticide-free company – this means that we use natural, eco-friendly methods that are safe for both you and the environment.
We attempt to minimize our impact on the environment by conserving fuel and decreasing emissions as much as possible. By utilizing a 14-day maintenance schedule for the majority of our accounts and optimizing service routes, we are able to ensure efficient trips for our technicians. Techs are also encouraged to go directly to and from their service accounts without the need to stop by the warehouse, and many take advantage of public transportation to reach their accounts. We also support a hybrid work environment that encourages administrative and managerial staff to work from home part of the week, helping to reduce the need for transportation to the office.
To conserve energy, we use energy-efficient lighting and And we're constantly working to make updates to our building to make it more energy efficient!
We also seek to support our local habitat by fostering the growth of indigenous wildflowers in our exterior landscaping.
Biophilic design is at the heart of what we do, so of course we demonstrate this in our own facility! We have plants in every office area.
To ensure our technicians stay up-to-date on the latest plant care and green practices, we offer regular in-house workshops and meetings on everything from pest & disease identification to the benefits of indoor plants. Not only does this mean better care for your plants, but it helps reduce potential waste by minimizing the need for replacements of the use of pest control products.
We are always looking for ways in which we can share the beauty and joy of plants with those in our community, In collaborating with Brookfield Zoo, we are able to give retired plants a second life in their animal habitats. We have also donated plants to a variety of other local organizations such as women's shelters and non-profits supporting individuals experiencing homelessness.