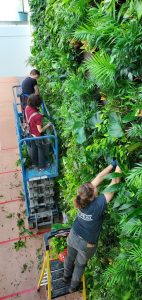 We are looking for an Operations Manager to join our interior landscaping team. Duties include scheduling accurate and efficient deliveries and installations, overseeing preparation of plants for delivery, managing and maintaining all Nedlaw living wall systems at client sites, supporting ongoing staff training and conducting department meetings, managing department payroll, ordering all operations related supplies, ordering new plants and replacement plants, maintaining safety standards, fleet management and other tasks as assigned.
The ideal candidate is a team player with solid skills for communicating with clients and coworkers, has excellent problem-solving abilities, and literally enjoys getting their hands dirty! A clean driving record and the ability to drive a 16' box truck are required for this position.
Phillip's Interior Plants & Displays (PIP) is the commercial division of Phillip's Flowers, a third and fourth generation family-owned floral group founded in Chicago in 1923. PIP operates out of a 20,000 square foot commercial space in Oak Brook, and we provide interior plant design and maintenance to companies throughout Chicagoland.
Submit resume to Jean M. Berg, General Manager
jmberg@phillipsinteriorplants.com