This creative University of Illinois BFA grad has worked from home via dial-up (wow, just wow!), managed the admissions ticket counter at the Sears (will it ever really be Willis?) Tower, and now gives her insights on an issue of timing.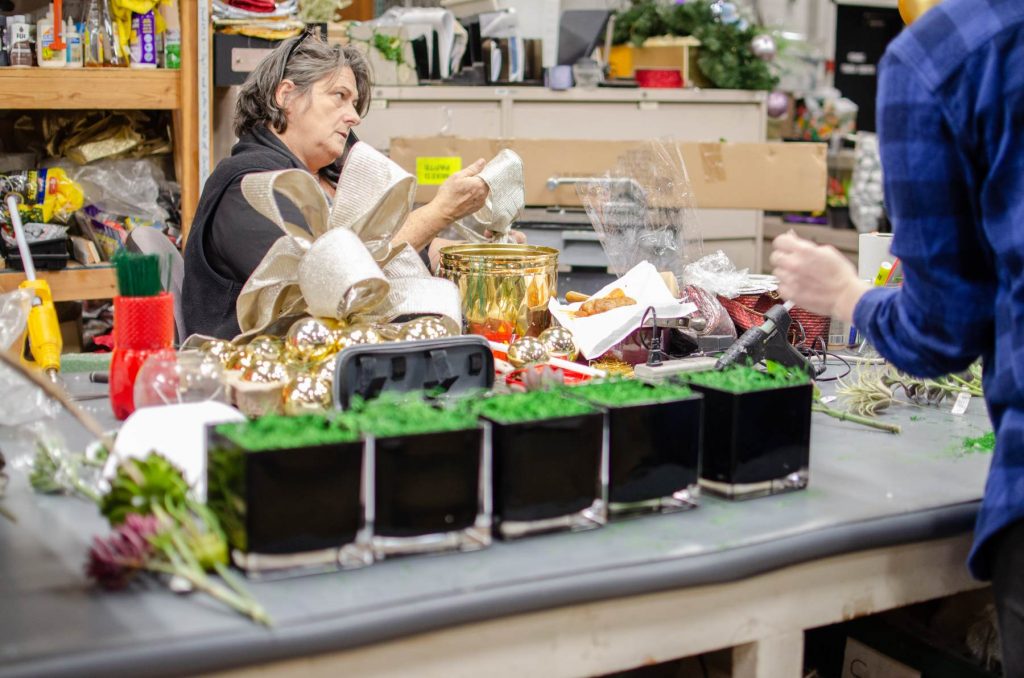 You hold a Bachelor of Fine Arts from the University of Illinois. How does your artistic background come into play as a designer for Phillip's?
Designing a holiday display is much more than attaching ornaments and a bow. There is the blending of color schemes, making sure the decorations have a visual movement, so your eye follows around the room. I always make it a point of having a little hidden surprise or pop. 
How did your art background come into play in your previous more office-centric positions where there was a less obvious need for a creative type? My art background gave me a more creative problem-solving ability and management style. 
You were in the first wave of work from home from 1997 – 2003 during your time in corporate America working for AT&T. What was that like? I had two young children, and I was very grateful for the opportunity to work from home. At that time, you had to make a choice between being there for your kids or going to work. I was able to do both. And yes, I did it through dial-up internet!
Plus side: I was near if my children needed me.
Down side:  I put in many more hours working at home than I would have if at the office. It was nothing for me to get the kids down and then log in to finish reports until three in the morning. 
To this day, I am still grateful that I was given the opportunity work from home.
---
How do you express your creativity outside of the workplace? I always have a couple of projects going on in my studio. The standing joke in my house is, there are two things not allowed in my house:  1. No idle hands – I have to be working on something all the time, even when I am relaxing. 2.There are NO Pinterest Fails in my house. My daughter teases me with this one because, I may or may not have loudly informed her of this when she wanted to give up on a project. I wouldn't let her until we got it right… hence THERE ARE NO PINTEREST FAILS IN THIS HOUSE!
I sew (designed theatrical costumes for many years), knit, crochet, jewelrysmith. I dabble in stained glass, painting, and sculpture. I am so excited that I have started taking classes throwing pottery. I had forgotten how relaxing it is to work with clay.
How did you end up at Phillip's? A friend of mine was working here seasonally for extra holiday money, and she told me they were looking for some people to decorate part-time. I would work at Phillip's after my full-time job a few nights a week.
You are fondly known around here as the Queen of Upcycling. How can I upcycle my Christmas decor? I use old glass ornaments as plant starters. Much more aesthetically pleasing than plastic water bottles. Don't you think? I have used them in a garden water feature, turning them into solar garden lights and actual planters. I have also sealed the open end and floated them in my pond.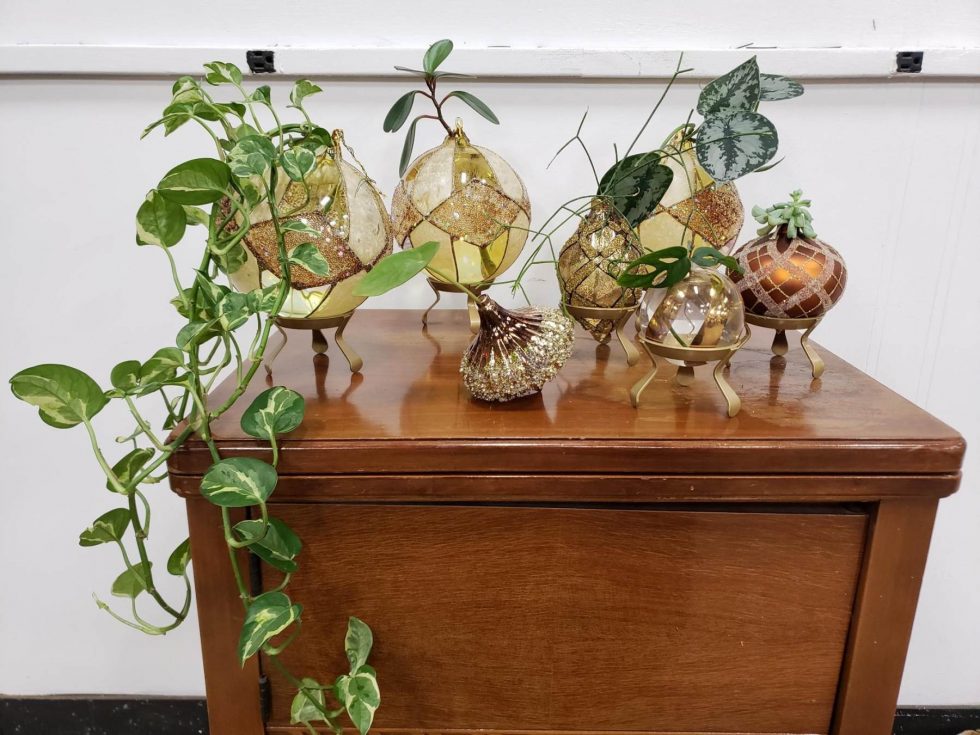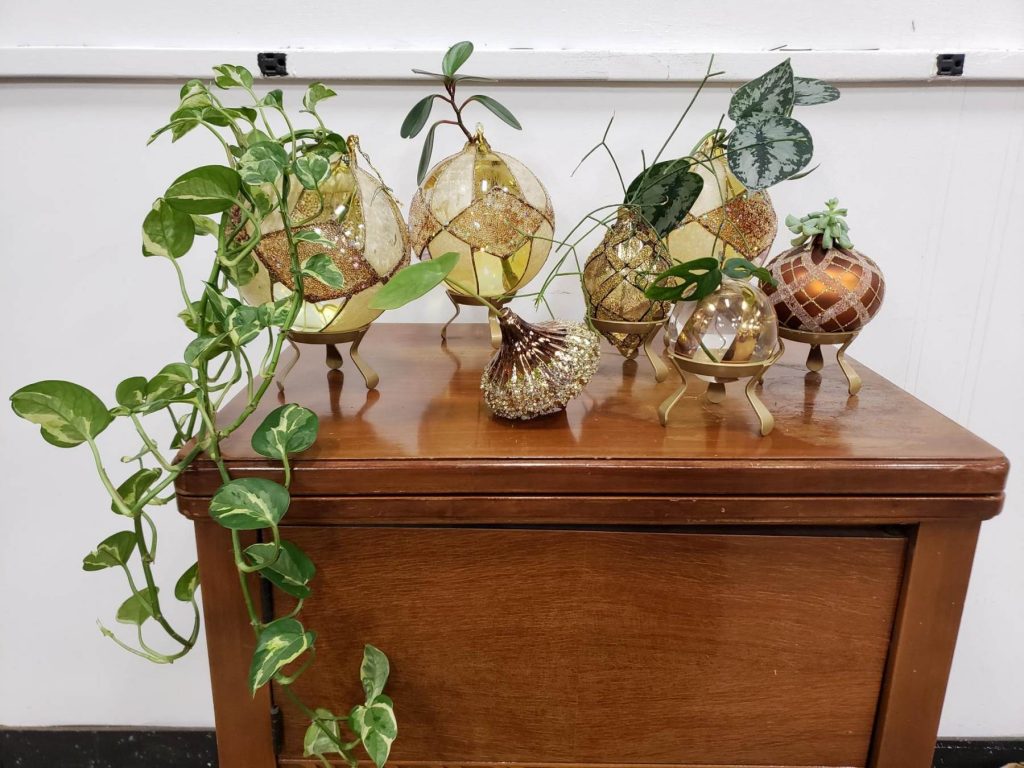 Any suggestions for things that can be upcycled into chic holiday decor? You would be amazed at what could be made from plastic water and soda bottles (snowflakes, icicles, flowers), beads from scraps of wrapping paper for garland. Who am I kidding? Add a little glitter to an object and poof! It's a holiday decoration. Seriously my favorite upcycling décor was vintage costume jewelry. The tree was not only stunning, but it was a beautiful way of remembering the people I received the articles from.
---
It's January 20th. We have finished taking down holiday decor throughout Chicagoland. The rest of us are mostly back to focusing on plants full-time. What are you doing? Designing new display concepts to offer clients. I am very proud that our displays are customized to each of our clients. We allow them to be as involved in the design process as much or as little as they would like. We never limit them to set themes for the year, as many of our competitors do.
During the off season, I am also working on art installations using preserved moss, plants, faux arrangements, and potted plants; organizing the stored accounts; and repairing, painting, relighting trees, and removing décor from items that will change color scheme next year. 
What is your proudest professional accomplishment? I believe that it is a great day if you learned something.
At Phillip's, I have a couple proud and standout professional accomplishments. For the redesign on the Palmer House Lobby Displays, the client requested décor that would best represent the iconic Chicagoan (and wife of the Palmer House founder) Bertha Palmer. I had to do a lot of research. The client was thrilled with my representation of Bertha Palmer's Christmas, and I learned a lot about a very strong woman. Go Bertha!
I was on the ground floor of moss art movement, and it has required a lot of research, trial and error and sharing of knowledge with other designers. I am very proud of the pieces I have created.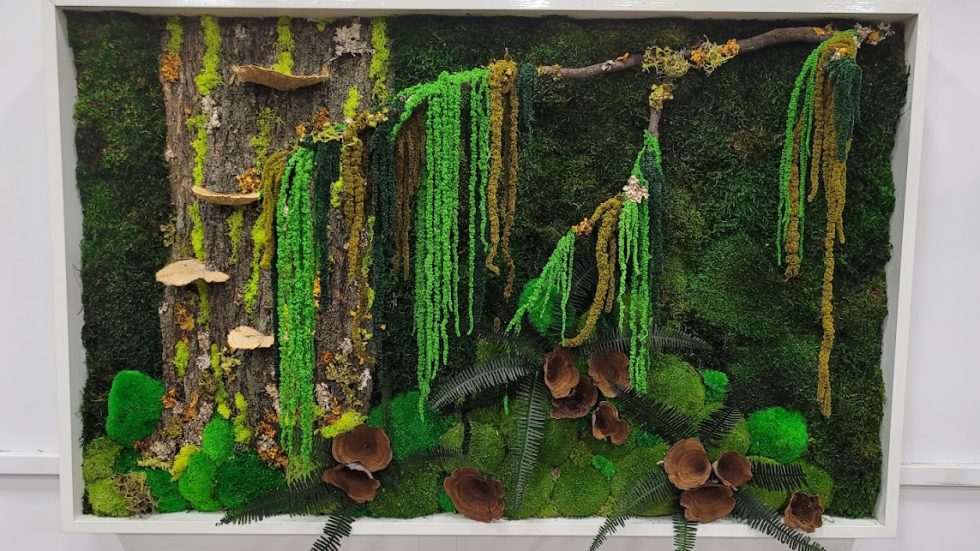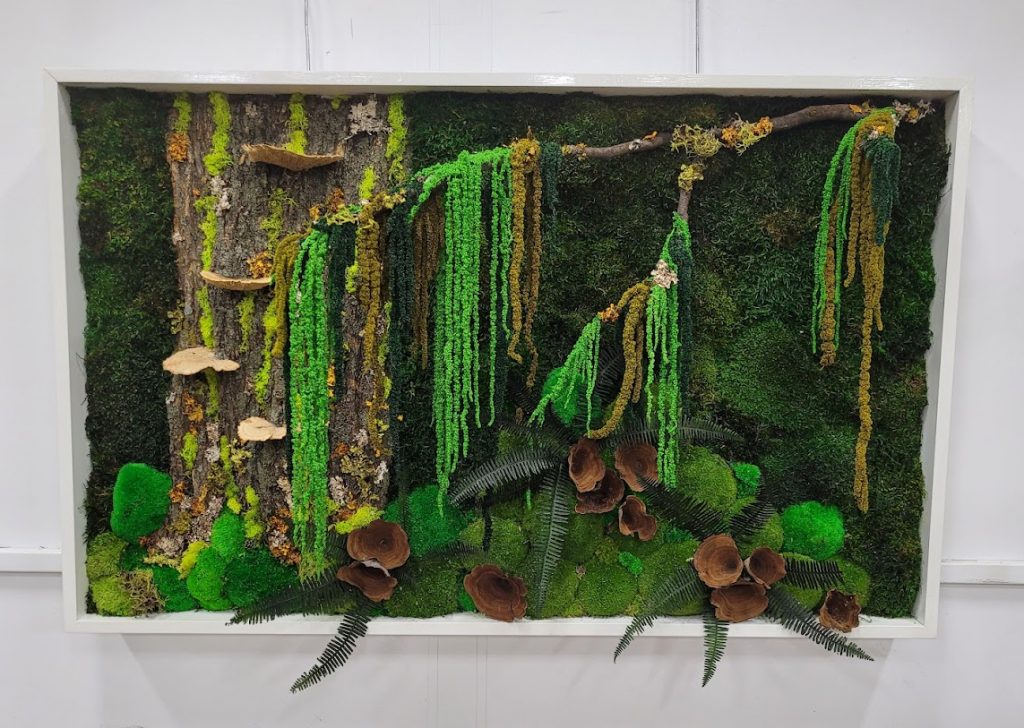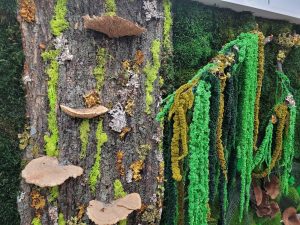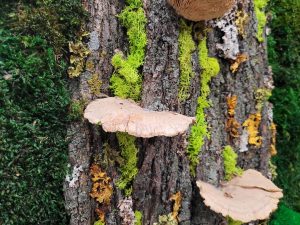 You recently described the project shown above as your favorite moss wall of all time. Can you tell us about this project? The art work is made of all natural preserved items: tree bark, branch, three types of moss, lichen, two types of mushrooms and foliage.The info I received from the client was that he loved the rainforests of Washington. He sent me a photo for inspiration. I didn't find out that it was for his daughter's nursery until it was completed. The client's response to the photo sent to him was that it looked like a home for a fairy that would watch over his daughter while she slept. That sent me over the top. I was very honored to have my work in their child's nursery. I hope it inspires many an imaginative story. I am very sappy.
What about your proudest personal accomplishment? My two strong, empowered, empathetic, socially aware, intelligent, activist children I have raised are my proudest personal accomplishments.
---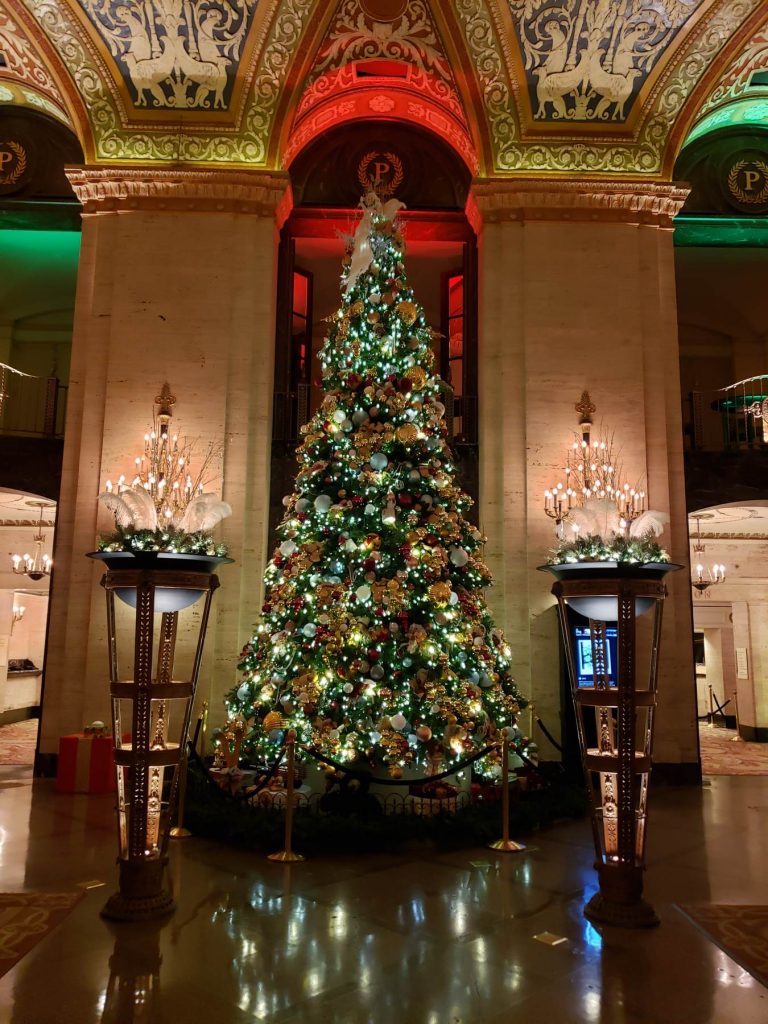 What is the biggest challenge in your role during the holidays? It is just like the train under a Christmas tree, you need the right speed to keep it on the track.
The holidays are our busiest time of year. How do you maintain a work/life balance during that period? There isn't a balance during the height of the season. It is only three weeks of craziness. I leave home in the morning before anyone gets up, and they are usually asleep when I get home. They survive and if things aren't done around the house as I would do them, it is ok. When I do get a day off, I don't concern myself with the little things. I enjoy my time with my family.

What tips do you have for someone looking to decorate their home for the holidays on a small budget? Buy lights and décor after Christmas. Use mostly plain ball ornaments. Glitter and acrylic snowflakes are inexpensive and a great filler. Use fancy, decorative ornaments minimally. It will make them stand out more. With metallic spray paint and glitter anything can be an ornament!
How do you decorate your own home for the holidays? Minimally.
Do you even have the energy? No, I do not.
Does your tree have a curated look that you change every year or do you prefer a more sentimental look featuring ornaments you have collected over the years? For a couple years when I first started working at Phillip's, I felt I needed to have beautiful, curated tree. Then I realized that didn't feel like Christmas; it felt like work. I have gone back to the family ornament tree. It takes more time using the sentimental décor. Worth it. A curated tree has never brought me to tears, but I know there are at least 20 ornaments on my family tree that will cause me to cry.
What is your favorite holiday tradition in your family? Christmas Eve, I would make my two children sleep in the bedroom upstairs and on Christmas morning they were not allowed to come down until I had my first cup of coffee, and the camera was ready to capture the look on their faces when they see all the presents under the tree. Their joy was the best Christmas gift I could receive. I just don't understand why my 30 year old son and 25 year old daughter have refused me my joy since my son was in middle school. HAHAHA or should I say HOHOHOHO!
Finally, the question of all questions, how late do you think Christmas decorations should be kept up? Till the Three Kings show up. One year they must have gotten lost because my tree was up until April. Oooops. I didn't turn the lights on! LOL.
No seriously, I do not have an opinion on how long holiday decorations should remain up, if you want that stuff up year-round, go for it!