In January Phillip's Interior Plants & Displays team members Jan P (Project Manager) and Sue Z (Project Consultant) received the Platinum International Plantscape Award during the Tropical Plant International Expo for their work on the Oakton Community College Feature Moss Wall.
You can read our award submission for the project, which was designed by Farr Associates, below.
This feature wall was part of a larger renovation project for the college, and was a union job. Therefore, the installation itself had to be completed by union workers. We partnered with the General Contractor who provided two union carpenters who physically attached the moss panels to the wall under our consultative services.
At 14′ wide and 19'7″ tall and 235 square feet, this project represents the largest moss wall we have installed to date, but this piece is so much more than just a large-scale focal point. It sits immediately outside of a newly renovated community college cafeteria and depicts an aerial view of the college campus. We used various groupings of Light Green Sheet Moss, Dark Green Preserved Sheet Moss, Light Green Preserved Pole Moss, Dark Green Preserved Pole Moss, Dark Green Preserved Reindeer Moss, Preserved Mood Moss, and Preserved Seagull Fern, each textural element representing a different type of flora on the campus. A laser cut aluminum and stainless-steel overlay represents campus buildings as well as the river that runs along the west side of campus. The actual production time to create and produce the moss panels was approximately six weeks, however the entire process from initial contact with the architect to installation was almost exactly one year. Many months were spent in planning, fine tuning, and selecting specific products and colors to bring the architect's concept to reality. The result is a stunning piece of art that puts into context the lush beauty of the campus that otherwise may not be fully appreciated by students, faculty, staff, and visitors on their daily arrivals and departures from campus.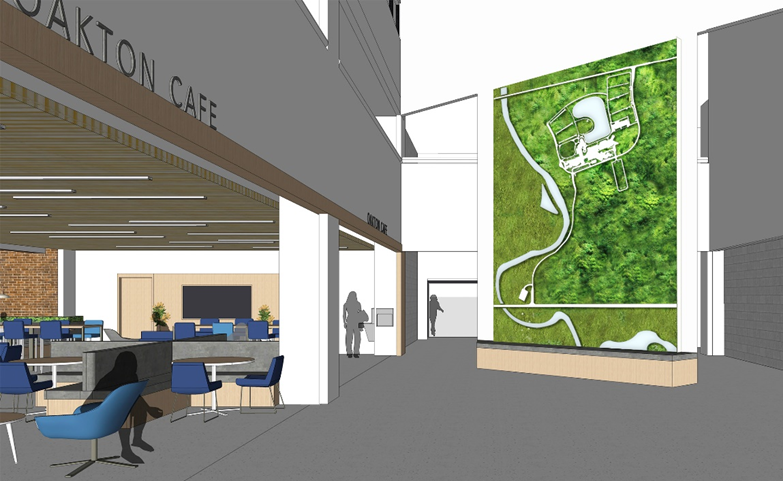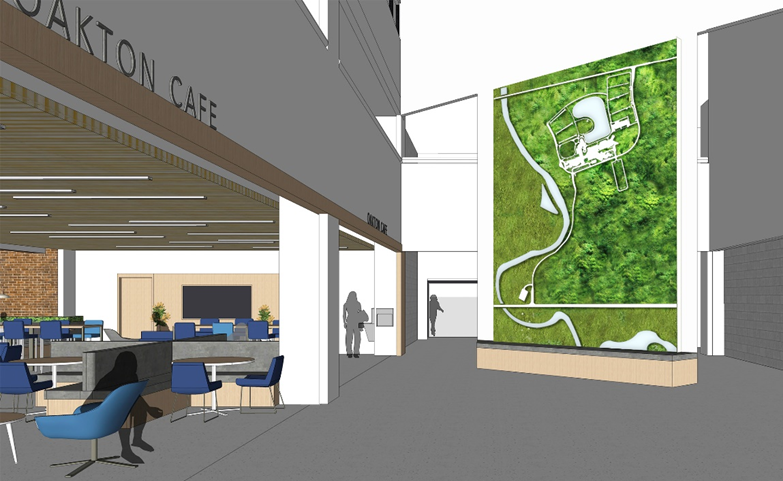 Above: We were contacted in early June 2020 by a local architectural firm who asked if our capabilities included moss walls. An enthusiastic "Yes!" was our response. Our experience included many small to medium scale projects, but as we were to learn later, this was a project of much larger scale, as this conceptual rendering indicates.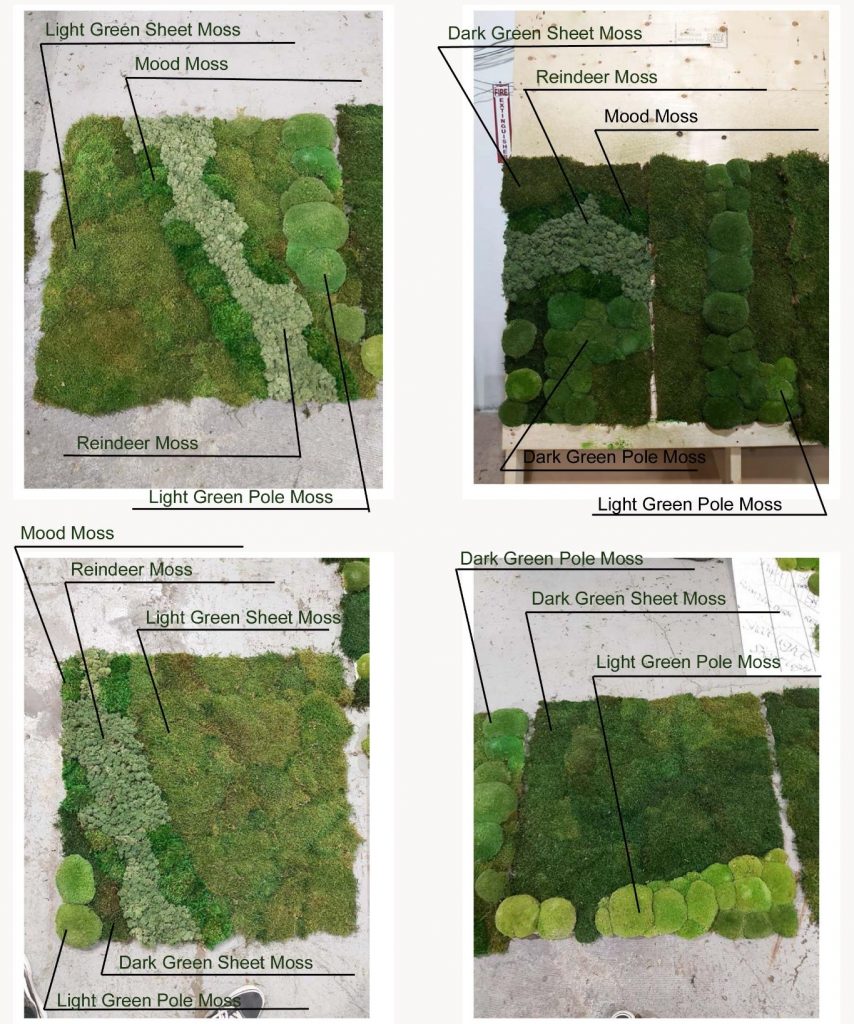 Above:  Many conversations and meetings took place in the planning stages of the project. The exact design needed to be confirmed, the moss types and colors needed to be selected, and the shop plans needed to be devised. The entire finished product had to be manufactured in exacting detail because the metal overlay element was being provided and installed by others, so each moss element had to be painstakingly placed as dictated by the design to match with the eventual placement of the overlay and each moss panel had to be produced and arranged in such a way as to flow seamlessly to the adjacent panel when assembled on site. Packaging and shipping to the job site had to be carefully planned. Each panel was identified on the back with a number and location reference and placed in a box that indicated the panel numbers enclosed. Placement of the panels during installation had to be exact so that the design intent would be realized, much like a jigsaw puzzle. The moss itself had to be carefully protected so that nothing would be damaged in transit.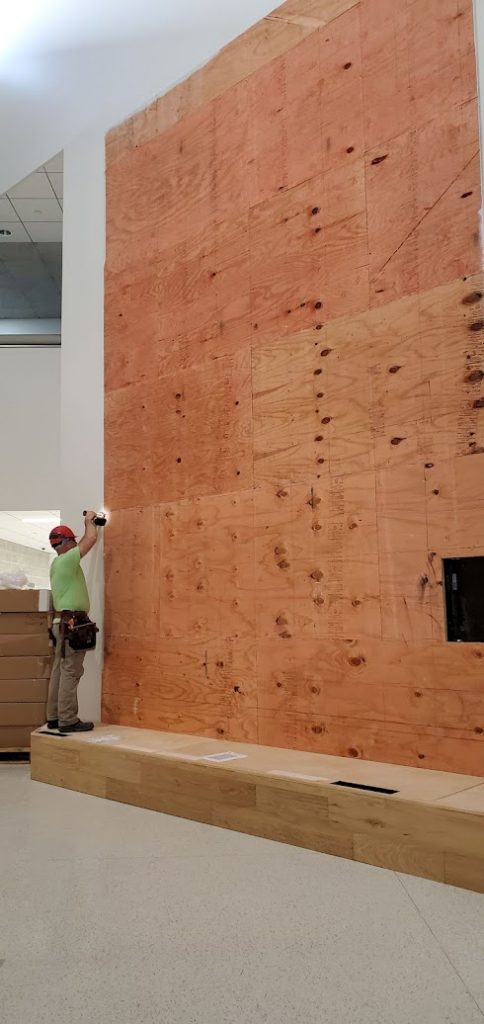 Left:  The first step in safely securing the moss panels to the drywall wall was mounting 235 square feet of ¾" plywood to which the moss panels would be attached. The size, placement, leveling and squaring of the plywood was a critical factor so it wouldn't be seen behind the moss panels or obstruct the placement of the aluminum frame to be placed later. Hard hats were de rigeur on the construction site. It was a closed site, so no face masks were required at that time.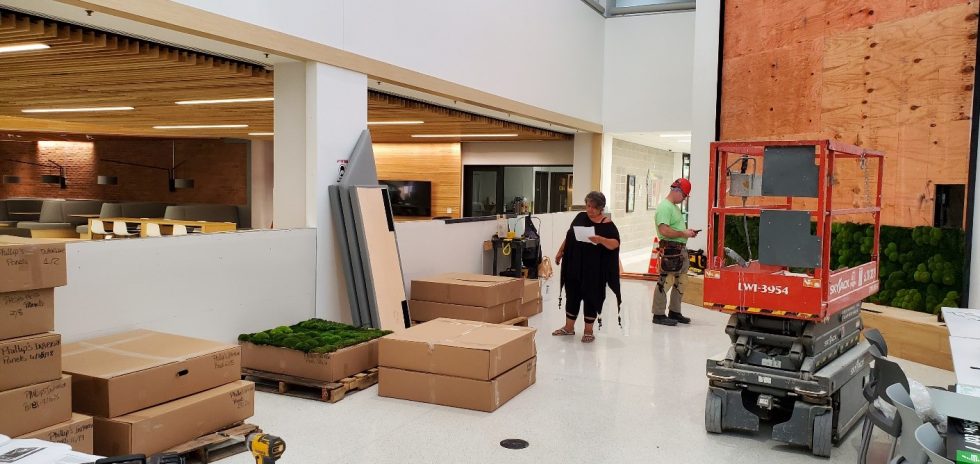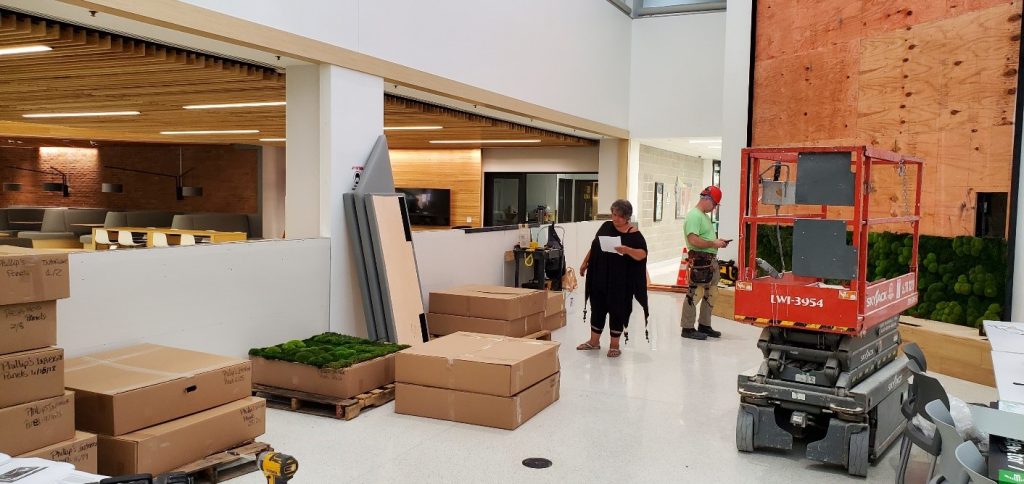 Above:  Thoughtful staging of materials on site provided a smooth transition from the boxed packaging, to readying for attachment, and final placement into the moss piece. Extra moss of each variety was on hand to repair any damaged or missing moss. The work area was closed off to traffic to ensure the safety of workers and visitors to the area.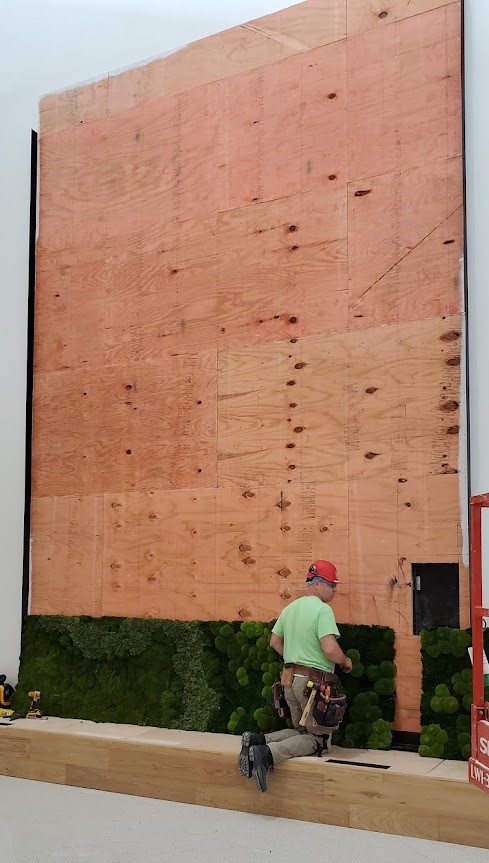 Left:  After the powder coated aluminum frame was placed for the bottom and lower sides of the feature wall, placement of the moss panels began. Starting at the bottom row, leveling was critical to ensure that as work progressed, the entire piece would be plumb and level.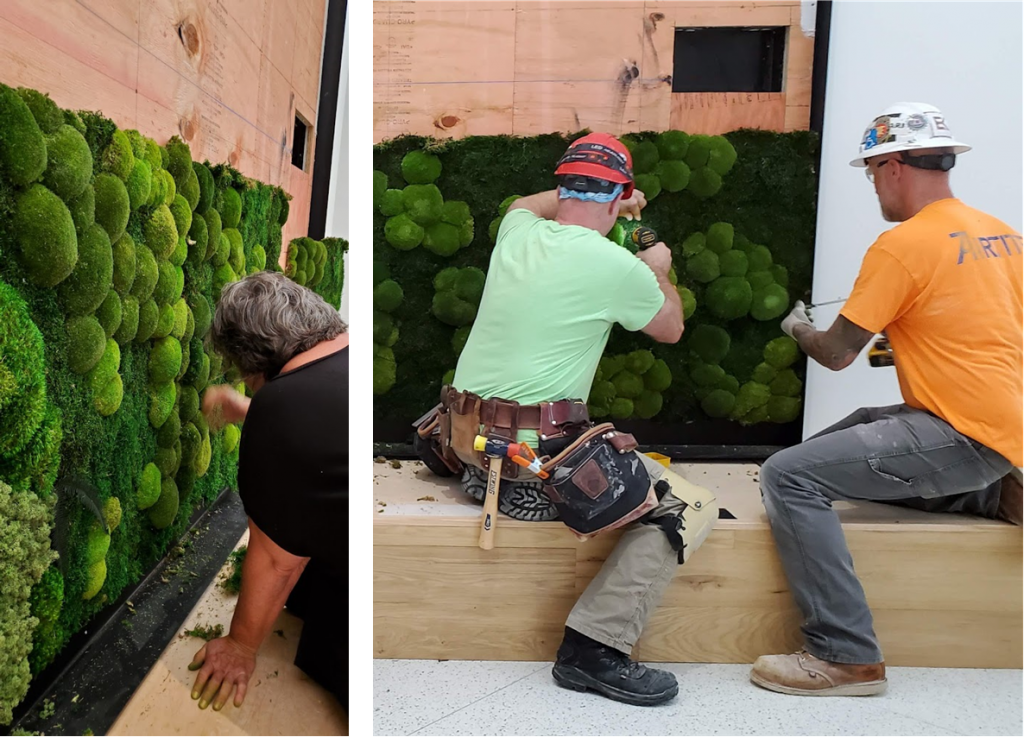 Above:  Panels were attached with both adhesive and screws. As each panel was placed and attached, a "melding" of the panels had to be done. Interweaving the moss fibers or carefully rearranging the moss buns to bridge the seam of the panels was critical to eliminating any visible seam lines and providing a professionally finished appearance.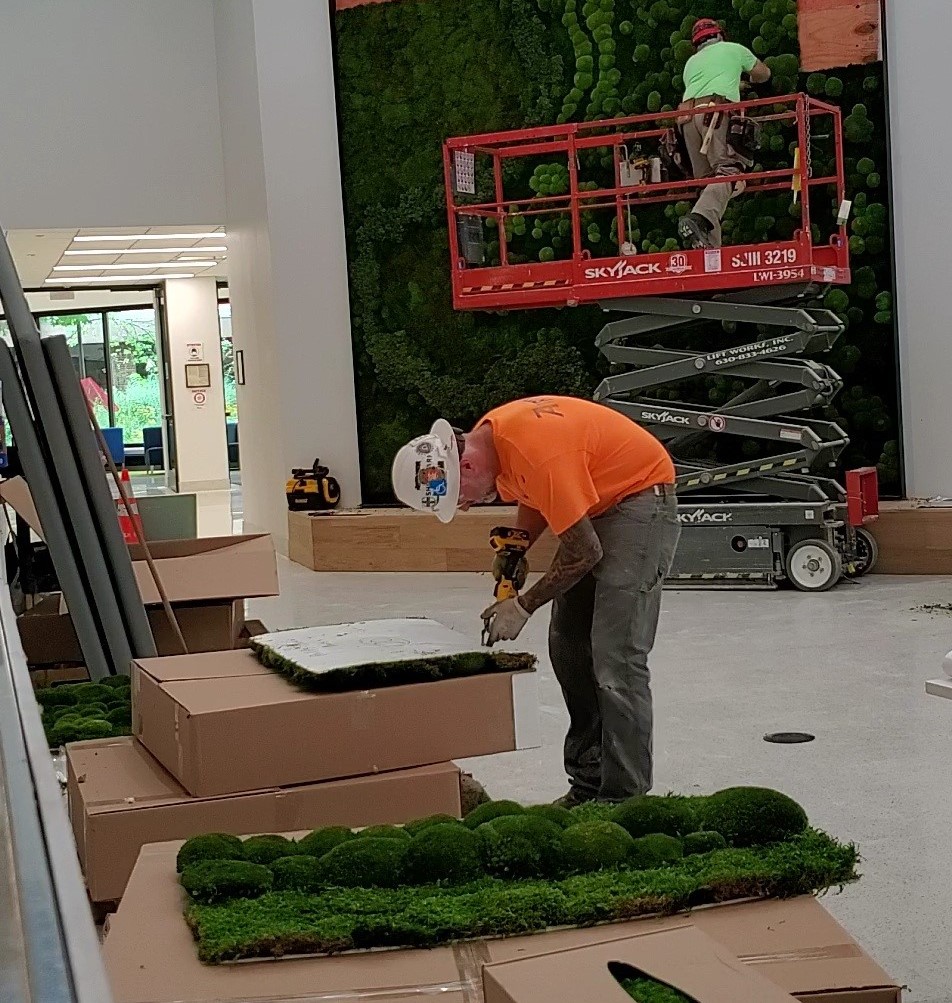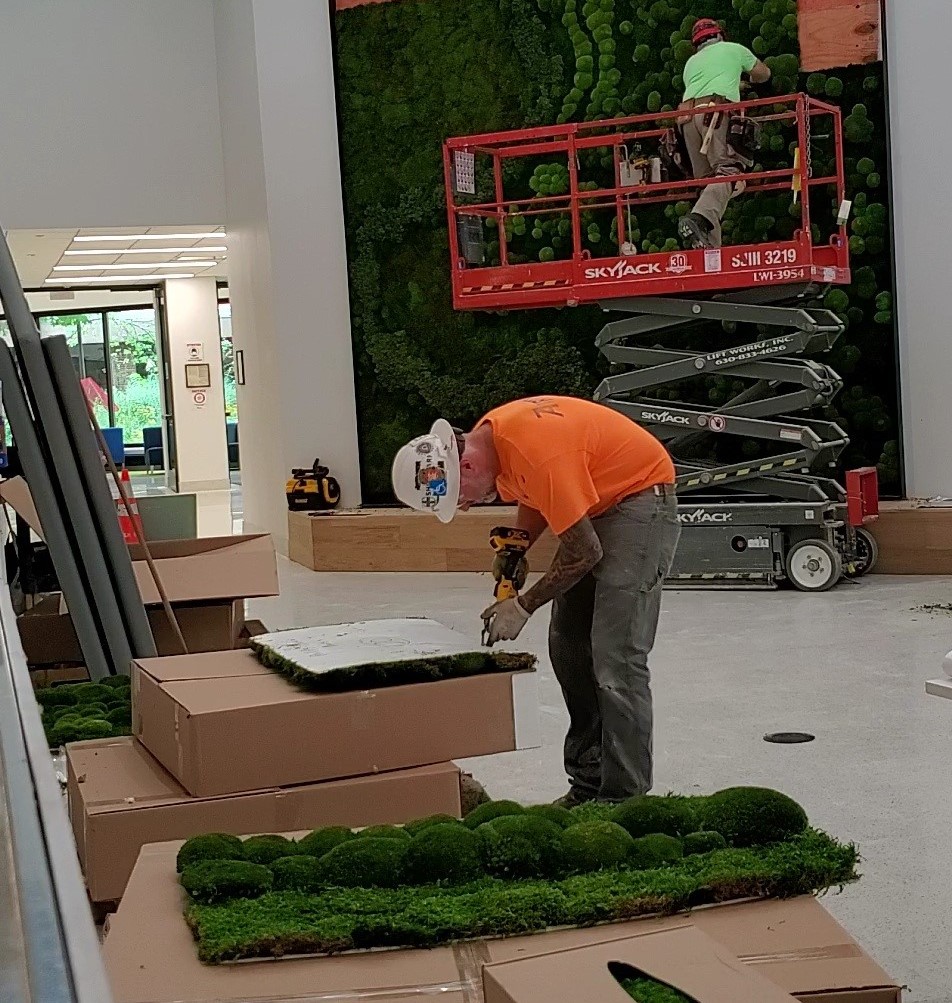 Above:  There were 35 individual moss panels produced in various sizes up to a maximum size of 36" square. Each row of five panels had to fit within the aluminum frame, so sometimes, a bit of adjustment was required, such as trimming the panel for size.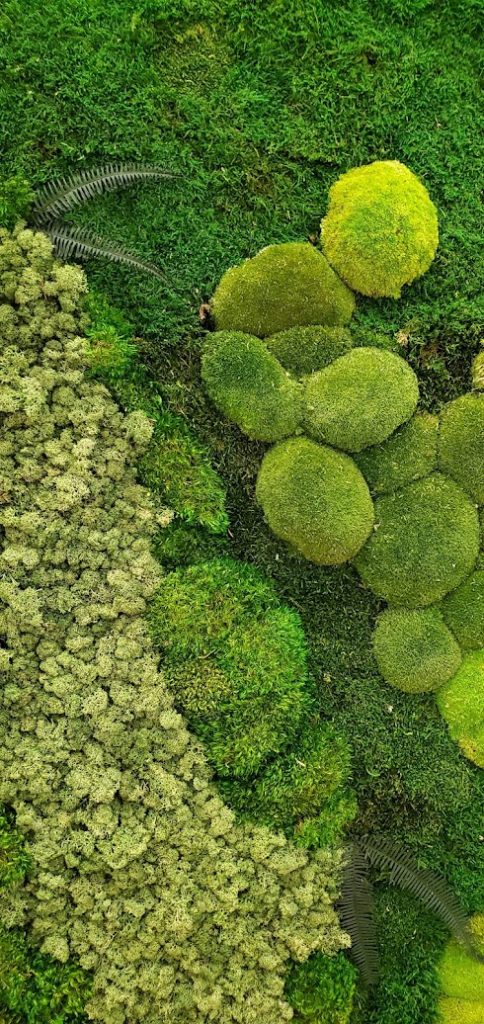 Right:  Texture that could mimic the site's flora and topography was one of many crucial components that made this project such a success.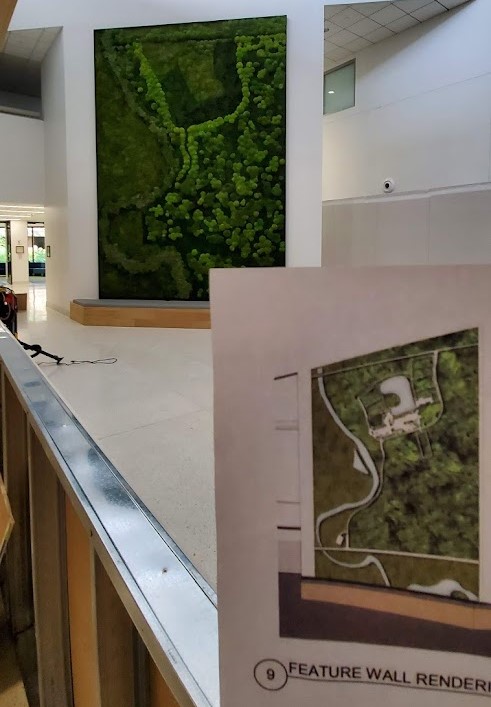 Left:  People passed by, outside of our cordoned-off work area, throughout the day and wanted to know what we were doing. As the moss installation neared completion, we received many compliments on what people thought was a nearly completed project. They were surprised to learn of the additional elements that would be added in the form of laser cut aluminum and steel pieces. There were many questions about how to water such a piece, and of course, since the product is preserved, no watering is necessary – or desired! The only maintenance required is an occasional light dusting.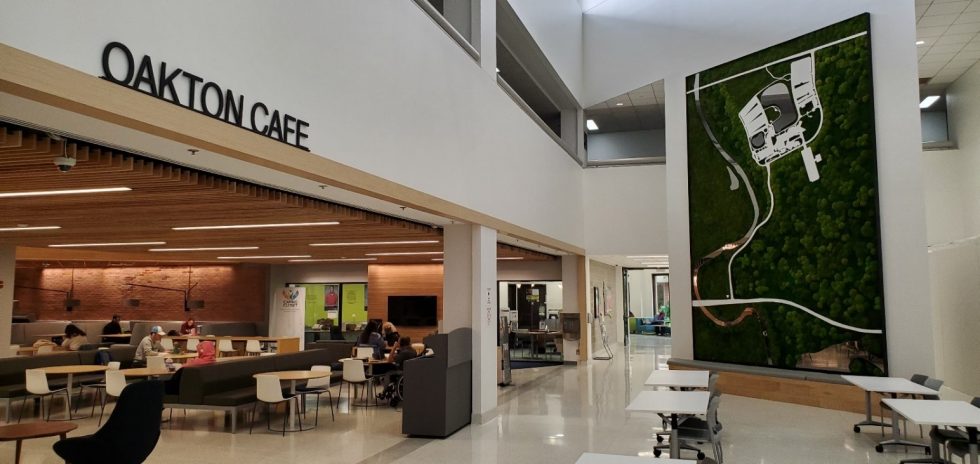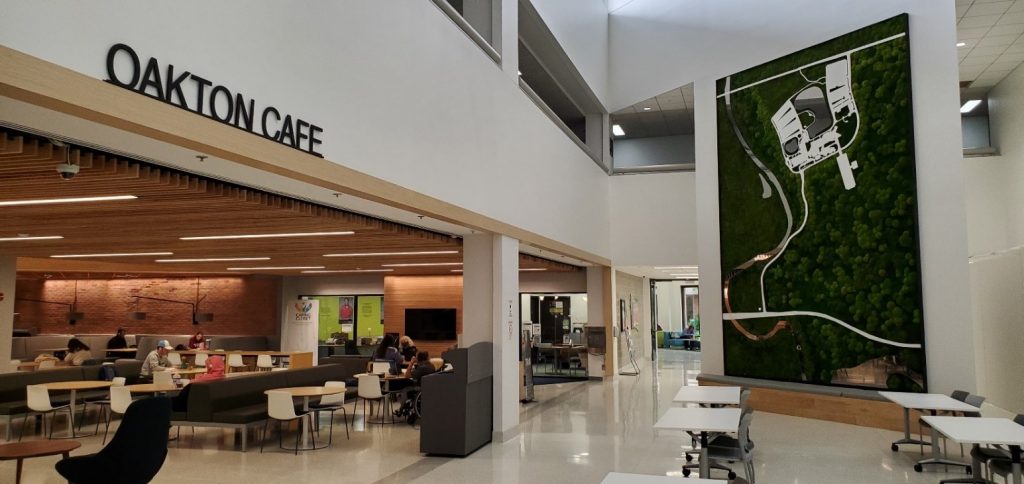 Above:  The completed moss wall inspired by the community college's setting as seen from above is located directly across from the school's renovated and soon to be very busy, newly renovated cafeteria.
Moss wall decor brings life to your indoor space! Interested in your own moss wall art? Contact us to learn more!