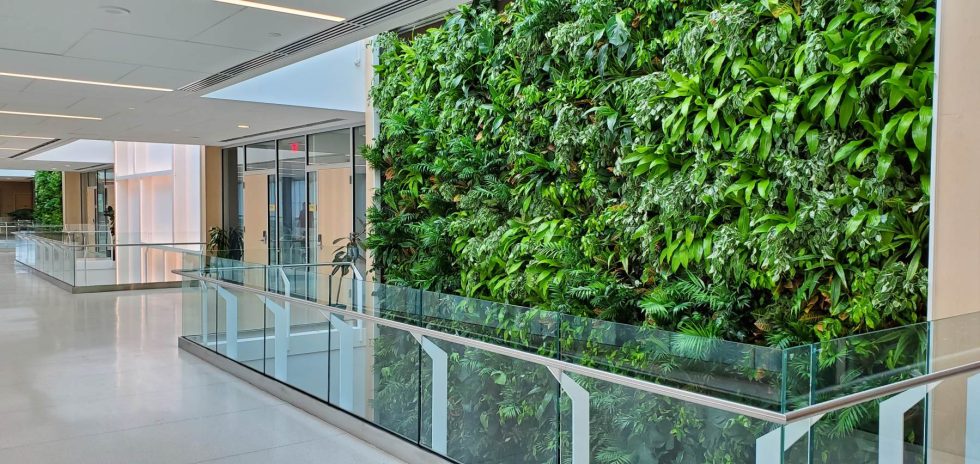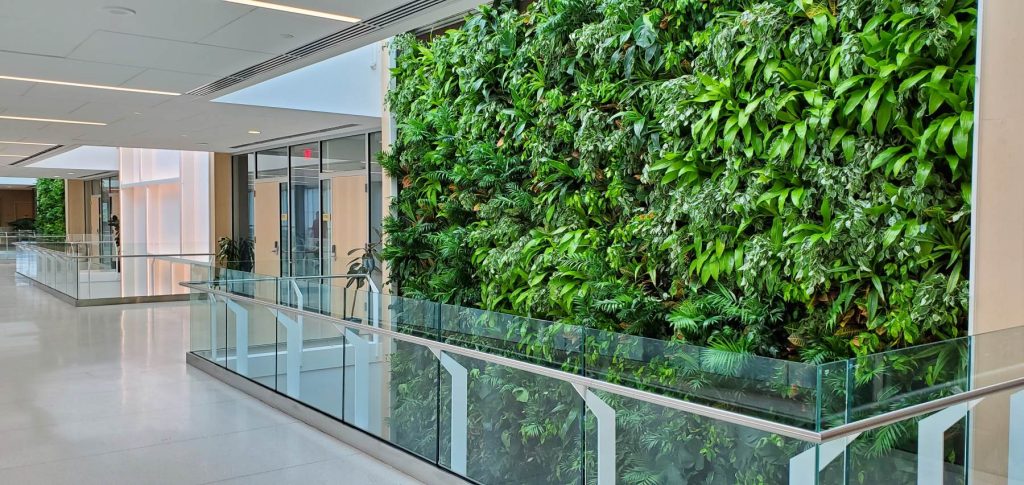 Any green wall will enhance the aesthetics of a space, but the Nedlaw Living Walls line is the only living wall (also known as green wall) system that actually does some work for you (or more precisely your HVAC). The green wall shown above, which we installed in the newly constructed wing of a Chicagoland high school, offers significant improvement in air quality and a major reduction in outdoor air. This particular system was specified because the facility's expansion was designed with a sustainability focus and LEED Gold certification as a goal. Architecturally specified living interior biofilter green walls totaling approximately 900 square feet were a major sustainable and visual element of this addition.
Growth media, the "soft" part of the walls, is fastened to vertical struts in two layers, each of which is approximately 2 cm thick. The plants' roots grow through the growth media while the material's open format allows "dirty" air to be pulled through the media. Growth media is under constant irrigation as the pump propels water towards the top and is streamed between the two layers of growth media. The water trickles down and is then recirculated to the top. The system is soil free and the bare rooted plants grow in the biofilter media. The media holds full size plants with established root systems. Monthly maintenance on a system like this typically runs between $5 and $10 per square foot. Just what goes into the monthly maintenance of a multi-story living wall with biofiltration? Thanks for asking! Take it away Social Media Team:
One of the benefits of this specific system is that only mature plants are used. This means the green wall looks beautiful immediately on completion. Depending on scale, a project can be installed within a few days or weeks. Our team focuses on efficiency, quality, and providing minimal disruption to our customers' operations. Green walls, such as this one, are about so much more than aesthetics though. They are actually a functional part of the air handling system and promote increased Indoor Air Quality (IAQ). Air is forced through the wall of plants where pollutants such as formaldehyde and benzene are biologically degraded into their benign constituents of water and carbon dioxide. Clean air is then distributed throughout the space by the mechanical system.
In addition to higher IAQ, living walls promote the many other benefits of incorporating live plants while utilizing a minimum of floor space. Those benefits such as reduced absenteeism, higher productivity, and increased creativity. They aid in sound absorption and provide any interior environment with a beautiful, natural focal point.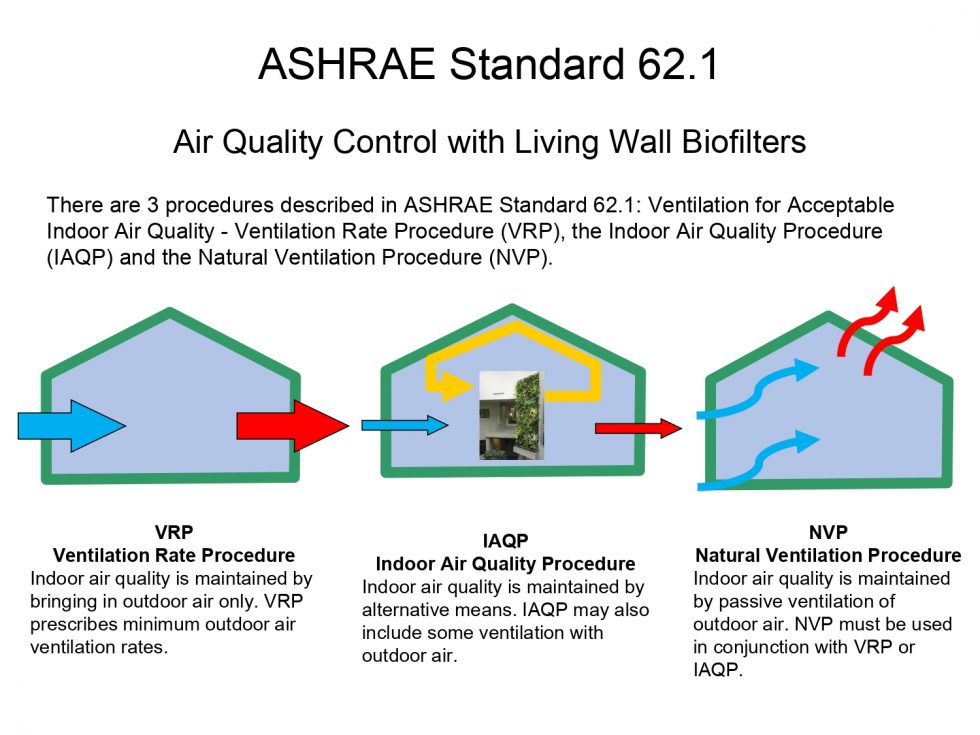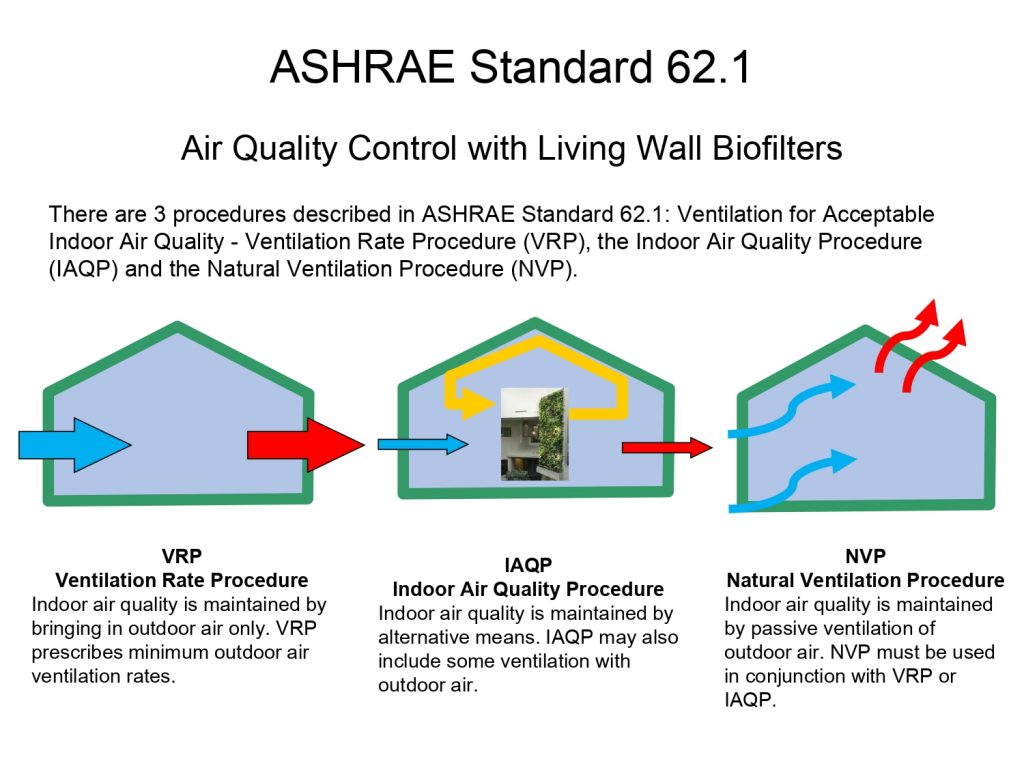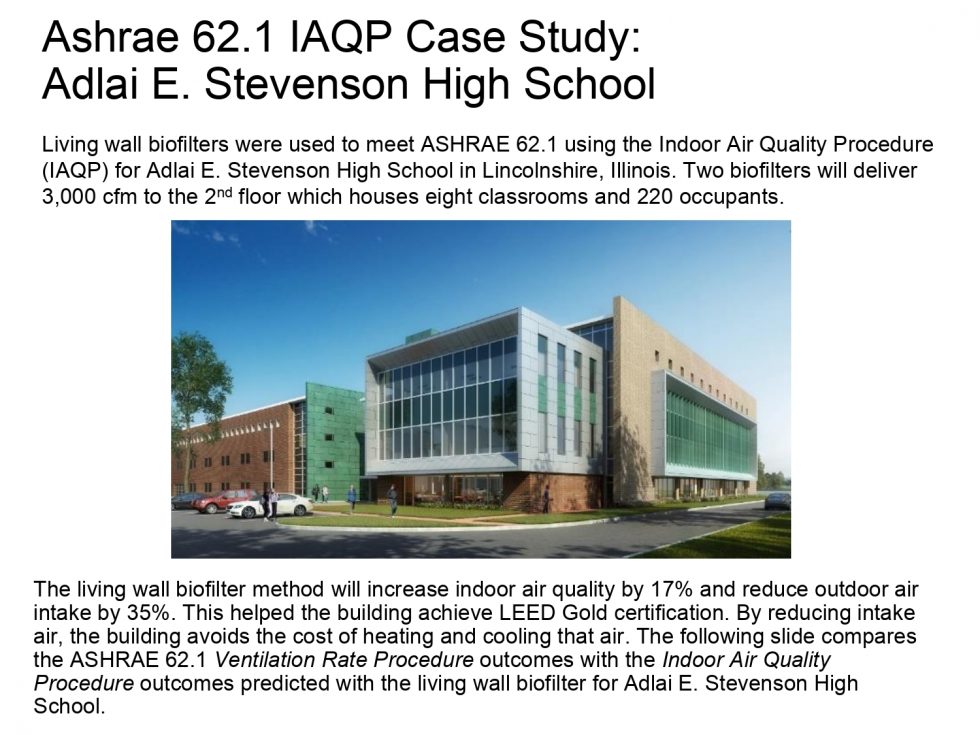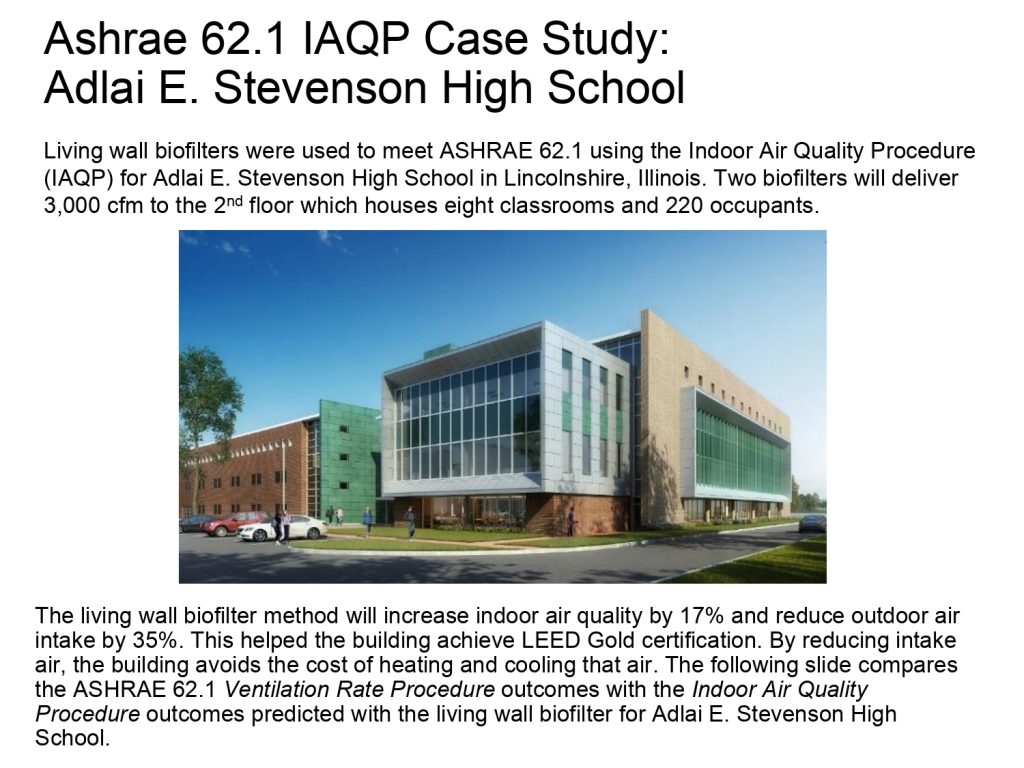 ASHRAE 62.1 IAQP Results
17% improvements in air quality
35% reduction in outdoor air
| | |
| --- | --- |
| VRP | IAQP |
| Ventilation Rate Procedure | Indoor Air Quality Procedure |
|   |   |
| Outdoor Air Intake | Outdoor Air Intake |
| 13 cfm per person | 10 cfm per person |
| Total = 3,382 cfm | Total = 2,200 cfm |
|   |   |
| Supply | Supply |
| Total = 11,837 cfm | Total = 11,837 cfm |
| Return = 8,455 cfm | Return = 9,637 cfm |
| | |
| --- | --- |
| Contaminant indoor = 1.2 µg/m3 | Contaminant outdoor = 1.2 µg/m3 |
|   | Biofilter capacity = 3,000 cfm |
|   | Biofilter removal efficiency = 50% |
|   |   |
| Contaminant indoor = .67 µg/litre | Contaminant indoor = .58 µg/litre |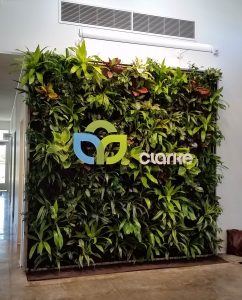 The wall featured above is not our only experience in Nedlaw Living Walls' biofiltration wall installation and maintenance; it is just our largest! We have been working with this specific system since 2015. A smaller scale version of the wall can be seen at Naperville Park District's Knoch Knolls Visitor's Center, a grade school in Northfield, and this branded piece we did for Clarke in Roselle.
---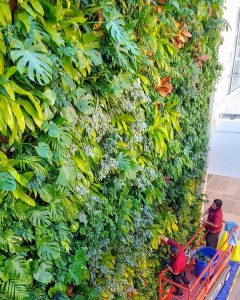 About Us
We are Phillip's Interior Plants & Displays, a leader in the interior landscaping industry. We operate out of a 20,000 square foot facility in Oak Brook which focuses on interior landscape design and maintenance as well as commercial holiday design and installation services. We bring the benefits of biophilic design into workspaces throughout Chicagoland.
Our team members have extensive horticulture and design backgrounds and keep up with all the latest horticulture design trends and "pruning" edge plant maintenance techniques. We are members of AmericanHort, Green Plants for Green Buildings, and the Illinois Green Alliance. We have also received a designation within our industry of Green Earth Green Plants Certified® based on our corporate recycling and reuse initiatives, no pesticide approach to disease prevention, energy conserving strategies for lighting and HVAC, environmentally friendly plant containers, company vehicles and employee transportation policies, and ongoing employee training on green practices.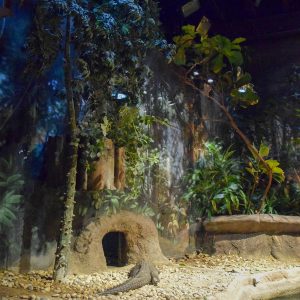 P.S. We would like to tell you about our team's favorite green initiative. In industry speak, at some point in their lives, certain plants will become described as "marginal". That basically means that a plant no longer looks its best after a certain point due to age, normal indoor environmental triggers, or simply the very natural "failure to thrive". Regardless, these plants go on to fulfill an important role when we transport them from workspaces throughout Chicagoland to Brookfield Zoo for inclusion into animal habitats and exhibits. We are proud to support Brookfield Zoo and the Chicago Zoological society in their mission to inspire conservation leadership by engaging people and communities with wildlife and nature.  
Right: A camera shy West African Dwarf Crocodile relaxes amongst a lush assortment of retired office plants in its enclosure at Brookfield Zoo's Habitat Africa! exhibit.
Image Credit: Cathy Bazzoni CZS – Brookfield Zoo